CIGARETTE SMUGGLING SCHEME USED TO BRING FORTUNES TO MOLDOVAN PLAYERS – ADVISER TO PRIME MINISTER
11 july, 2019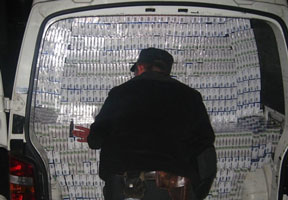 The annual turnovers of the Moldovan large-scale cigarette smuggling scheme were reaching 5 billion cigarettes and even more, says Vladislav Kulminschi, Adviser to the Prime Minister on Foreign Political Affairs.

Kulminschi wrote in the social networks: "The cigarette smuggling was controlled by the authorities: it was a source of a rapid income for politicians, in whose hands were the Customs, the Ministry of the Interior, the Border Police and other related structures. And from the received income they paid 'salaries' to ministers of government, deputies of parliament and other useful officials".

"In 2014, as many as 10 billion cigarettes were smuggled through the Transnistrian region by means of this scheme. In 2015, only 2 weeks after Ukraine had prohibited the export of cigarettes through Transnistria, Ilan Shor, with the help of many Moldovan parliamentarians, achieved necessary amendments to the Moldovan legislation, which opened a door for illegal exportation of cigarettes through his duty-free shops working on the Transnistrian segment of the Moldova-Ukraine border. The scheme mechanism permitted to smuggle up to 5 billion cigarettes [250 million standard cigarette packages] a year. And in 2019, the scheme started working yet more intensively, having carried a billion cigarettes in May alone", wrote Vadim Krasnoselsky.

In his opinion, a scheme stoppage should require immediate and resolute actions from the Moldovan authorities.

"At the legislative level, it is necessary to cut short all possibilities of duty-free exportation through Transnistria. Also, it is necessary to seriously discuss strengthening of joint control on the Moldova-Ukraine border, including essentially its Transnistrian segment namely to create 8 jointly-run customs stations, including two on the Transnistrian segment. Also, it is necessary to extend the mandate of the EUBAM [European Union Border Assistance Mission to Moldova and Ukraine], and to urgently invoke the responsibility of the Republic of Moldova's Ambassador to Austria and to the OSCE [Victor Osipov], who played an important role in the scheme", wrote the Advisor to the Prime Minister.