PRESIDENT STANDS FOR CANCELING CHISINAU AIRPORT CONCESSION
22 august, 2019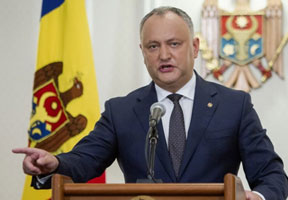 President Igor Dodon gave an interview to the Radio Free Europe on Wednesday, in which he expressed his position concerning the Chisinau airport concession.

He said that the airport was given into concession as per the criminal decision of the previous authorities and that this agreement must be cancelled.

"Currently, the Government is conducting investigation, an ad-hoc parliamentary commission for investigating the transaction has been created. The decision was taken with legislation violation, the concessionaire failed to fulfill liabilities that concern airport modernization. There are suspicions that a part of money, paid within the concession agreement, comes from the billion of dollars stolen from banks. If this is true, there are all reasons to cancel the contract and to return the airport under state authority", Dodon said.

Commenting on the transaction during which the concessionaire company changed the owner, the President stressed that this changes nothing.

"The situation with airport will be discussed at an urgent sitting of the Supreme Security Council until the end of this week. I want that citizens to understand that it is not about airport selling. It remains exclusive property of the state, while the change of owners does not change the essence of the problem", Dodon said.

This week it became known that the NR Investments Ltd company, which belongs to the family of Rothschilds, bought 95% shares of the Avia Invest company, which in 2013 took the Chisinau airport into concession for 49 years. President Dodon stated it is necessary to urgently convene a sitting of the Supreme Security Council to discuss the situation around the airport.