CREDITING GROWTH IS DUE TO HIGHER POPULATION'S ACCESS TO FINANCES – NBM DEPUTY PRESIDENT
28 november, 2019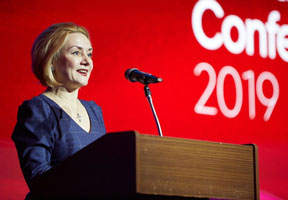 The efficient administration of credit risks became the topic of discussion at the conference held in Chisinau on Wednesday. The forum gathered representatives of banks, financial, insurance and leasing companies, credit history bureaus, as well as specialists from the National Bank of Moldova.
"After a deep cleansing, the considerable reform and stabilization of Moldova's financial-banking sphere over the last three years, the time has come for developing the Moldovan financial market", said NBM Deputy President Cristina Harea at the forum.

The banker said that active crediting has resumed in the banking sphere, which can be witnessed in the volume of banks' credit portfolio, which reached 39 billion lei.

The banking system is for the 19th consecutive month is registering the growth of banks' credit portfolio. With all this, the crediting by nonbank credit organizations is actively growing. By end-2019 their credit portfolio reached 10 billion lei against 4 billion in 2014.

Bankers and specialists maintain that the growth of crediting is happening in the country due to the extension of population's access to finances and financial services due to which citizens are raising their living standards.

Cristina Harea said that the sustainable growth of crediting and development of financial market in Moldova is impossible without a wise and efficient risk management.