MoE INTENDS TO LIQUIDATE MONOPOLY IN RAILROAD SECTOR
05 december, 2019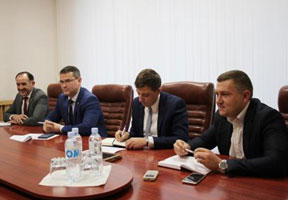 Minister of Economy and Infrastructure Anatol Usatii met with a group of World Bank experts, headed by WB Country Manager for Moldova Anna Akhalkatsi on Wednesday.
According to the Ministry, the main topics of discussion were the ways of improving the condition of road infrastructure and the development of the railroad sector.

Usatii stated the ministry intends to liquidate monopoly in the railroad sector in order to have a transparent and fair competitive environment, while travelers to benefit from quality services.

"We will be grateful to the WB for support in reorganizing the National Railroad Company of Moldova (CFM). I think that this reform will have an important effect on the country's economy. The contract on buying locomotives has already been signed and in 2020 the first of them will arrive to Moldova. Until we have a modern fleet of locomotives, we cannot convince potential investors to choose railroad transport instead of the automobile transport", the minister said.

In her turn, Anna Akhalkatsi announced about the launching of a project of technical assistance in order to conduct assessment and diagnostic of railroad branch in short terms for evaluating the potential and establishing the directions of CFM economic development.

The sides also discussed the implementation of the project "Improving of Local Roads", implemented with the WB support to raising population's access to the most important institutions in localities.

The interlocutors also discussed the problems faced by entrepreneurs at implementing projects, in particular at getting bank guarantees of up to 10% for receiving payments in advance. Entrepreneurs regard such interest rates too high given the foreign practice. The possible changes concern the lowering of the cost of these guarantees, which will be discussed on economic platforms in the nearest time.

The WB Manager said that these projects are very important and necessary for Moldovan citizens, assuring that the World Bank will support the proposed reforms.