AGREEMENT ON EXTENDING CONTRACT ON GAS SUPPLYING TO MOLDOVA WILL BE SIGNED UNTIL END-2019 - VADIM CEBAN
11 december, 2019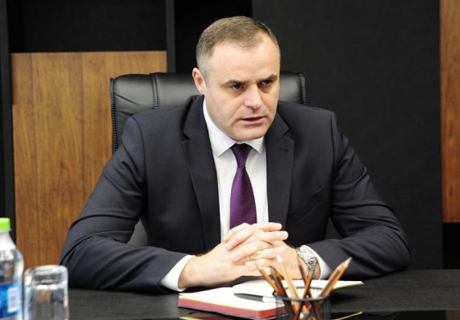 The agreement on extending the current contract on supplying of gas to Moldova will be signed before the end of the year, said Chairman of the Moldovagaz Administrative Council Vadim Ceban at the sitting in the Ministry of Economy and Infrastructure.
According to the ministry's press service, this will be done after negotiations with Ukraine on the issue of reverse gas supply in case Ukraine and Russia fail to agree on gas transit and Moldova will have no possibility to be receiving it via the traditional route.

"The Moldovagaz head informed that the agreement on extending the current contract on gas supplying will be signed before the end of December after discussing conditions on paying of services on reverse supply of natural gas through the territory of Ukraine at the Orlovka-Causeni section", the press release says.

It is about an alternative buying of natural gas at the border with Romania (Isaccea) and Ukraine (Orlovka) for reverse on main networks of Balkan corridor. The Moldovagaz head ordered that all these documents to be agreed before December 12.

Ceban confirmed that several alternative variants of supplying gas to Moldova in case there is no supplying through Ukraine. He stressed that all these variants take into account the need of preserving the price for ultimate consumers.

"In this context, it was important for Moldova to agree not the signing of a new contract, but the extending of the existing one, which implies considerable discount next year, as the price is connected to prices on gas on world markets this year", the Moldovagaz head said.

Before, it was reported that the price on gas for Moldova will account for approximately US$172-173 per 1 thousand cubic meters in 2020.

Vadim Ceban also said that on December 12, the readiness of all operators in the Balkan corridor to gas supplying in reverse regime will be discussed. Also then, the additional agreement on interconnection between the TransGaz (Romania) and the UkrTransGaz (Ukraine) will be signed.

Minister of Economy and Infrastructure Anatol Usatii said that the ministry plans to sign a Memorandum on security in natural gas supplying with the Ukrainian Ministry of Energy and Environment Protection on the margins of the Ministerial Council of the European Energy Community on December 13.