MOLDOVAN-UKRAINIAN COMMISSION TO MEET IN MARCH 2020 – PREMIER
13 december, 2019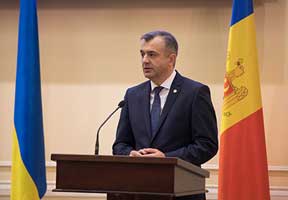 The next meeting of the Moldova-Ukraine Inter-Governmental Commission for Trade and Economic Cooperation will take place in March 2020, said Prime Minister Ion Chicu after his Thursday's trip to Kiev, where he met with Ukrainian Premier Alexei Goncharuk and participated in the Summit of GUAM [Organization for Democracy and Economic Development] Prime Ministers.

"I suppose that a friendly dialog at the level of government heads has been rehabilitated, we have agreements on further work next year. The problem of international transportations, blocked by absence of transport permits, has been resolved. Thus, our transporters can cross the territory of Ukraine and travel to Russia and other states", Chicu said.

He said that during the visit, they also discussed the problem of Russian gas imports through Ukraine, including alternative variants in case the transit on traditional route is ceased.

"We agreed on all the aspects, connected with ensuring gas to Moldova through alternative routes. After the yesterday's discussion we preserve optimism that Russia and Ukraine will agree on gas transit", the premier said.

Ion Chicu also said that Alexei Goncearuc accepted the invitation to visit Moldova.