​GOVERNMENT TO SUPPORT GIURGIULESTI PORT ACTIVITY
24 january, 2020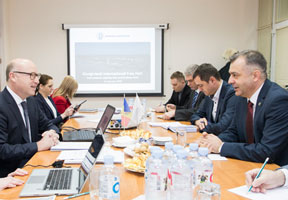 Prime Minister Ion Chicu met with Mathias von Tucher, Director General of the Danube Logistics company – operator of the Giurgiulesti International Free Port on Thursday.
The company head informed the premier that there are over 470 employees in the port, while total investments in the infrastructure account for around US$70 million. In 2019, almost 1.1 million tons of cargoes were transshipped via the port 57% of which – were exported and 42% – imported. 72% of imports came from the EU, mostly from Romania. Exports went to 44 countries, almost one-half of which are the EU.

According to the Director General, in the nearest future a terminal will be put into operation for shipping wine in bulk, which will stimulate its exports and will extend the geography of supplying.

The port administration enumerated a number of problems, which need Government's support, including the problems that may threaten investment plans and create conditions for unfair competitiveness. He also stressed the need of conducting the activity on preserving the navigation on the Prut River.

One more topic of discussion concerned the need of strengthening the railroad infrastructure in the port, including the putting into operation of the Cahul-Giurgiulesti railway line.

After the meeting, the premier ordered to the Ministry of Economy to study each issue, present the information and solutions for sustainable development of the port activity by legal means with mandatory observation of environment protection requirements.