EU ASSISTANCE CANNOT BE OVERESTIMATED – FOREIGN MINISTER
10 april, 2020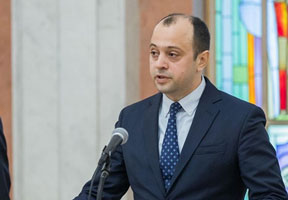 Minister of Foreign Affairs and European Integration Oleg Tulea highly assessed the EU's decision to provide 87 million euros more to Moldova for implementing measures to support immediate and short-term needs for overcoming the crisis, which occurred due to the coronavirus pandemic.

According to the ministry, he said that the assistance provided by the EU in the present hard times is directed to support to country's efforts on combating the epidemiological crisis and its consequences.

"We welcome the systemic and long-term approach, which includes both urgent measures for the healthcare system and for supporting the vulnerable raions and social needs, and the comprehensive program for economy rehabilitation", the minister said.

According to him, this assistance will replenish the funds worth 140 million euros allocated by the EU to the Eastern Partnership countries within the regional support program. Within it, the EU allocated 30 million euros for healthcare systems, around 11.3 million – for support to vulnerable segments of population and social needs, which will be capitalized via the civil society organizations, and around 100 million euros – for economy rehabilitation, especially for the small and medium enterprises.