GOVERNMENT HAS DECIDED ON SITES FOR CREATION OF 16 INDUSTRIAL PLATFORMS IN REGIONS
15 july, 2020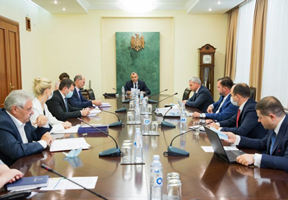 The Moldovan government decided on the sites for the creation of 16 new multifunctional industrial platforms in the regions, allocating 50 million lei for these purposes.

As Infotag was informed in the Cabinet of Ministers, this was discussed at a meeting held on Wednesday by Prime Minister Ion Chicu with the participation of the Ministers of Economy and Infrastructure, Agriculture, Foreign Affairs and European Integration, as well as the leadership of the Public Property Agency, Balti Free Economic Zone and Investment Agency.

He demanded to intensify efforts to connect platforms to communications and attract investors to the regions.

"Develop action plans for the technical preparation of each industrial platform so that we can move forward in launching them," said the Prime Minister, noting the importance of involvement of the Investment Agency, foreign commercial missions, RM ambassadors abroad, as well as diplomats accredited in our country, to promote the capabilities of industrial platforms.

At the meeting, it was decided to create a joint working group designed to develop an action plan and monitor its implementation.