NBM LOWERS 2018 INFLATION FORECAST
03 november, 2017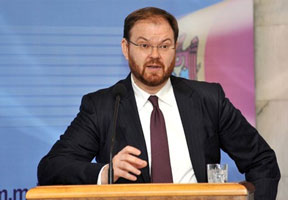 The National Bank of Moldova (NBM) has lowered its 2018 inflation forecast to 4% from 4.4%. The target inflation in 2017 was left at 6.5%.

At the Thursday's press conference, NBM President Sergiu Cioclea said that the regulator is expecting a fast decline of inflation in the second half of 2018, when its rate may fall under the targeted goal - 5% В± 1.5%.

The banker pointed at the fact that Moldova is partially importing the inflation due to importing petroleum products and food.

"But due to the growth of the national currency exchange rate in 2017 we managed to level the imported inflation. The Moldovan leu is strengthening due to export growth, as well as due to raising the volume of remittances from labor migrants. Each month, over US$100 million arrive to the country, which is the highest rate over the last 3 years", Cioclea said.

According to him, in 2017, the currency proposal in the internal market exceeds the demand on it, which allowed the NBM replenishing reserves by almost US$400 million at the expense of buying currencies, when over the entire 2016 the bank bought US$405 million.

"Currency reserve accounts for almost US$2.7 billion, which is more than before the 2014-2015 banking crisis, but slightly lower than the historical maximum, which was US$2.8 billion before crisis", he said.

As for the situation in the banking sector, the NBM president called it sustainable and stable.

"Banks are working with profit, which allows them to raise their capitalization in any moment if necessary. Currently, the Return on Assets in the banking system accounts for 30% at the normative of 16%. Banks have too high liquidity, which exceeds 53% at normative of 20%. However, in future we forecast the growth of crediting, due to which the current liquidity will start falling and this will not affect the share of bad credits", Cioclea said.

According to him, currently the share of bad credits in the banking system accounts for 17.4%.

"But this is the rate of old credits, with which banks are actively cooperating now", the NBM governor said.