COOPERATION PROGRAM WITH MOLDOVA PROVES IMF TRUST – PREMIER FILIP
07 november, 2017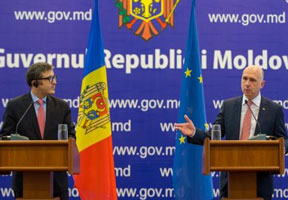 The program of cooperation between International Monetary Fund (IMF) and Moldova, which has financial component of US$180 million is "a certificate of trust in Moldova", said Prime Minister Pavel Filip at the Tuesday's joint briefing with IMF mission Ben Kelmanson.

The mission worked in Moldova since October 25, conducting the second assessment of the cooperation program with country Government. The program was signed exactly a year ago – on November 7, 2016.

"For the Government it is very important to have an objective assessment of reforms we are conducting in all sectors", Filip said.

He said that due to the IMF program, Moldova entered a stable macroeconomic and financial phase.

"We expect that the growth of economy in mid-term period will account for 3.5%-4%. The growth of budget in 2017 and targeted rates of its growth in 2018 will allow us raise capital investments of the state in economy sectors", the premier said.

He also pointed at certain problems in the process of fulfilling reforms, agreed with the IMF. These concern the quality bank management, central depository functioning, transparency of Moldovan banks' shareholders, development of financial organizations, as well as investigation of the bank theft.

"I am sure that the Government will properly fulfill all the conditions of IMF program", he said.

Ben Kelmanson said that the mission will prepare a report on assessing the program fulfillment and will present it to IMF Board of Directors in December 2017.

The head of the mission confirmed that the Moldovan Government managed to stabilize the macroeconomic situation, conduct weighted fiscal policy, slow down the inflation growth, which created prerequisites for economy development.

"In 2017 we expect the growth of country GDP at the level 4%", Kelmanson said, congratulating the Moldovan Premier on results within the program implementation.