MOLDOVAN PREMIER SATISFIED WITH RESULTS OF IMF COOPERATION
08 november, 2017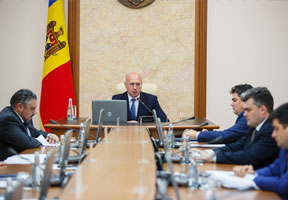 Prime Minister Pavel Filip is satisfied with the results of cooperation with the International Monetary Fund (IMF) and the IMF assessment mission, which has concluded its work in Chisinau on Tuesday.

"We reached a Staff-Level Agreement, the Cooperation program with the IMF continues. We will receive the next tranche worth US$22 million in time. For me, the relations with partners are very important, especially with the IMF. Money is not the most important here. The assessment is important, as this is a certificate of trust other partners orient on", Pavel Filip said.

He expressed gratitude for the conducted work - both to IMF mission experts, and to officials of the National Bank of Moldova, the Ministry of Finance and other institutions, who worked with IMF experts.

A group of IMF experts headed by Ben Kelmanson had worked in Moldova within the period of October 25 through November 7. The three year IMF program with Moldova has been approved exactly a year ago - on November 7, 2016.