EBRD AND SWEDEN ALLOCATE FUNDS FOR SUPPORTING MOLDOVAN BUSINESS LADIES
13 july, 2018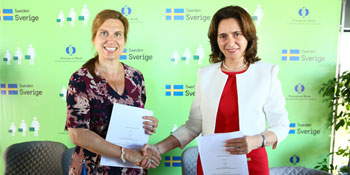 Moldovan companies, headed by women, can benefit from grants for developing their businesses within the European Bank for Reconstruction and Development program "Women in Business". The EBRD together with its main partner – the Swedish Government – allocated 2.5 million euros of gratuitous financing for this.

At the Thursday's ceremony of signing the financing agreement, Ambassador Extraordinary and Plenipotentiary of Sweden to Moldova Signe Burgstaller said that the program is aimed at helping business women of the country to make a contribution in extending their rights and possibilities.

"In Moldova there is great number of talented and clever women, who have creative and relevant ideas, thus they should be helped. Women can contribute to development of not only the economy, but the country in general. Starting from 2011, over 160 Moldovan women got support for business development, while new grants will enlarge access to training, new opportunities, projects and job creation", the ambassador said.

According to Head of the EBRD Permanent Representation in Moldova Angela Sax, the received money may be used for implementing innovations with the help of business consulting and establishing new connections.

"Due to the generous support from the Swedish Government, we helped improving the output of 160 small enterprises, headed by Moldovan women. The best economic results were achieved by enterprises, which benefited from training programs. We intend to not only extend the access to consultation, but also ensure financing via local banks after the completion of banking sector reforming", Sax said.

Infotag's dossier: The Swedish Government is supporting the EBRD Program "Women in Business" in Moldova since 2011, allocating for this over 6 million euros already.