COMMISSION ON INVESTIGATING BANK FRAUD ASKS PGO TO CONFIRM AUTHENTICITY OF 2ND AND 3RD PARTS OF KROLL REPORT
15 july, 2019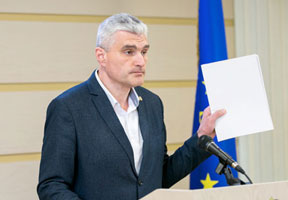 The parliamentary commission on investigating bank fraud addressed to the Prosecutor General's Office with a request to confirm the authenticity of the second and third parts of the second Kroll report, published by Partidul Nostru [Our Party] leader Renato Usatii.

Commission Chairman, Deputy Speaker Alexandru Slusari said on Monday that the PGO must confirm or disprove the authenticity of these parts of the report, as well as explain how the information leakage happened.

"From the unofficial sources, I found out that representatives of Kroll are unpleasantly surprised about the publication of documents. They cannot understand how the PGO, which had all the information already on March 22, 2018, remained inactive. The agency assured us that the information leakage may have happened just from the PGO", the Deputy Speaker said.

He supposed that the Kroll is studying the published materials, but it is unclear if its representatives are going to officially confirm or refute the second and third part of the report, published by Usatii.

"Kroll is interested in cooperation with competent authorities of Moldova, who are expected to act, not to publish or sell the documents", the MP said.

Answering to journalists' questions, he said that the parliamentary commission is also studying the published materials, but it did not receive them from Usatii, who sent the documents on a USB by carrier pigeon.

"Neither a pigeon, nor a crow, or any other bird came to us", Slusari said.

He also said that the Commission still has not decided yet if Usatii, or ex-Premier Vlad Filat, or condemned financier Veaceslav Platon will be heard within the investigation. In the interview Filat gave from prison on Sunday, there was nothing new for the commission.

"My opinion is that it will be useful to hear some of the above-mentioned persons. However, it is the commission that will take the decision, I do not want to press on its members", the Chairman said.

Before the end of the month it is planned to hear some high officials, including incumbent MPs and ex-Prime Minister Iurie Leanca in order to complete the work on the final report on theft investigation in August.