NBM HARD-CURRENCY RESERVE WENT UP US$38.2 MILLION IN JULY
09 august, 2019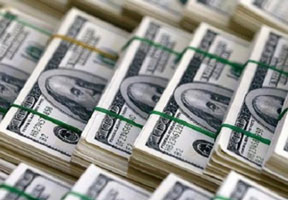 The official reserve of the National Bank of Moldova (NBM) increased by US$38.21 million in July and exceeded US$2,951 billion. Though, the reserve shrank by US$43.2 million compared with the beginning of 2019, and by US$19 million, compared with the equivalent period of 2018.

According to the NBM, the increase of official reserve in July was mostly due to net revenues related to mandatory banks' reserves in foreign currency – US$36.71 million; the NBM net interventions in the currency market in the form of currency purchase – US$23.04 million; grants provided by the European Commission to the Ministry of Finance – US$16.2 million (14.54 million euros); loans and grants received by the Ministry of Finance for investment projects implementation – US$6.09 million; and profit from foreign resources administration – US$4.41 million.

At the same time, the increase in reserve had a negative impact on the decrease in exchange rates, included in the foreign exchange reserves against the US dollar by US$27.04 million; payments related to servicing the country's foreign debt – US$13.28 and the MoF's payments – US$6.5 million.

Infotag's dossier: In August 2018 the NBM hard-currency reserve accounted for US$2,970 million. At the end of 2018, they equaled to US$2.995 billion. As of the end of 2017 it accounted for US$2.803 million, in 2016 – US$2.206 million, in 2015 – US$1.756 million, in 2014 – US$2.156 million. In 2013 it was US$2.82 million, in 2012 – US$2.515 million, in 2011 - US$1.965 million, in 2010 – US$1.717 million. It reached its historic maximum in November 9, 2018 – US$3.049 billion.