MOST FLAGRANT VIOLATIONS IN BANK FRAUD HAPPENED AFTER PROVIDING STATE GUARANTEE - ALEXANDER SLUSARI
23 august, 2019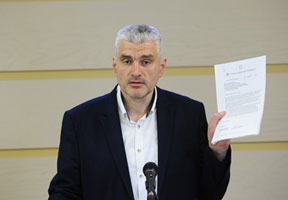 The most serious violations in the stealing of the billion took place after providing of state guarantees to the National Bank of Moldova (NBM) by Iurie Leanca Government (in November 2014), maintains Chairman of the parliamentary ad-hoc commission on bank fraud investigation, Deputy Speaker Alexandru Slusari.
At the Thursday's briefing he said he received National Bank of Moldova's report about financial transactions, conducted in three problematic banks (Banca de Economii, Banca Sociala and Unibank) after providing of guarantees, when it was absolutely clear the institutions are going to catastrophe.

"Calculating the sum transferred to these banks, I was terrified. The figures are immense; it is even more than 1 billion euros. But why the banks in such a condition were operating with such sums of money?", Slusari said indignantly, though refusing to disclose the exact sum under the pretext that it needs clarification.

He addressed to the NBM for information about sums, withdrawn from the three banks over that period.

"This is very important. The main machinations took place after the providing of guarantees by the Government, for which the first to be responsible are the then Premier Leanca, NBM President Dorin Dragutanu, Ministers of Economy and of Finance Andrian Candu and Anatol Arapu", Slusari maintains.

According to him, on Wednesday the commission heard Arapu, who states that in 2013-2014 he systematically addressed to the NBM on the violations that were happening in the three banks and was against the providing of guarantees, insisting on urgent external administration.

In this connection, Slusari addressed to the International Monetary Fund and the World Bank for detailed information, connected with the three banks over that period of time.

He did not exclude that the commission will also hear Vlad Filat, while next Wednesday it waits for ex-Head of the Victoriabank Natalia Politov-Cangas, who was absent from the previous hearings.

Commenting on the desire of Partidul Nostru [Our Party] leader Renato Usatii to speak at the commission sitting, Slusari said he have not received yet any confirmation of the part of Kroll report, presented by Usatii. He also said that the commission plans to present the final report on the conducted investigation on September 30.