EBRD TO FURNISH US$50 MILLION TO MOLDOVA FOR PURCHASING NATURAL GAS FROM ALTERNATIVE SOURCES, IF NEED BE
12 december, 2019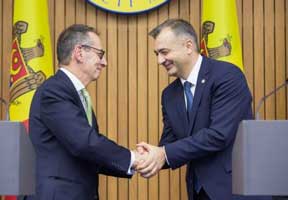 The European Bank for Reconstruction and Development will provide US$50 million to Moldova if a necessity arises to obtain the fuel from alternative sources, as per the Agreement signed to this effect in Chisinau on Wednesday evening.

Moldovan Prime Minister Ion Chicu and Matteo Patrone, the EBRD Managing Director for Eastern Europe and Caucasus, said after signing the document that the cooperation between Moldova and the EBRD is successfully developing and projects important for the republic are efficiently implemented.

Premier Chicu said that the Moldovan Government is counting that Russia and Ukraine will reach an accord on continuing the Russian gas transit, so that starting from January 1 Moldova could begin receiving the fuel at a price lower than previously.

"At the same time, for all this period the Government kept working over reserve scenarios. Today we have an Agreement permitting to purchase gas according to a reserve scenario. This 50-million-dollar credit will be used only in case we have to look for alternative routes of importing gas and if Moldovagaz happens to have no means enough for this. This is a very important step. We are sure that our cooperation with the EBRD and other external partners for raising our energy security is extremely important and that it will be continued", said the Premier. Ion Chicu said that the first such alternative scenario is to receive gas from the trans-Balkan gas pipeline. But should problems emerge there, the Moldovan Government will resort to a second scenario - purchasing the fuel with the means provided by the EBRD.

The Premier voiced satisfaction that negotiations with the EBRD went promptly and fruitfully: the negotiation start was approved only at the Government meeting held last Wednesday, and in a week the document has already been signed.

According to Chicu, the EBRD leadership approved yet one more project today pertaining to the Iasi-Ungheni-Chisinau gas pipeline that will be realized in a short time to ensure a higher energy security for Moldova.

Matteo Patrone pointed out that the financial mechanism adopted today is an extra demonstration of what the Bank can make for Moldova, including for raising its energy security.