FOREIGN MINISTER STANDS FOR DISCUSSING MACRO-FINANCIAL ASSISTANCE PROGRAM
05 june, 2020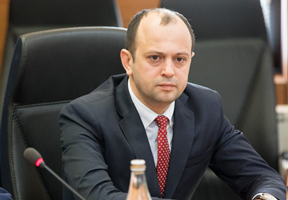 Moldova is grateful to the European Union for support in combating the COVID-19 pandemic, and is counting that the discussion of the EU emergency macro-financial assistance program will be quick, Minister of Foreign Affairs and European Integration Oleg Tulea said during his online dialog with Members of the European Parliament David McAllister and Andrius Kubilius.
Oleg Tulea confirmed the Moldovan Government's commitment to the Euro-integration course and stated: "We highly value the cooperation with the European Parliament and are counting on invigoration of our dialog".

Touching on the implementation of key reforms, the Minister highlighted the Government's efforts to reform the justice system, investigate the one-billion-dollar bank fraud, define priorities in struggle against corruption, etc.

Minister Tulea reaffirmed Moldova's interest to collaborate with the European Union also within the framework of the Eastern Partnership Program.

As was already reported by Infotag, last May the Council of the European Union and the European Parliament approved the European Commission's proposal to render assistance in the amount of 3 billion euros to 10 Enlargement and Neighborhood countries, including 100 million euros for Moldova.