CEC REJECTS OPPOSITION'S ACCUSATIONS CONCERNING ITS IGNORING OF ELECTION CAMPAIGN FUNDING LEGISLATION
16 september, 2020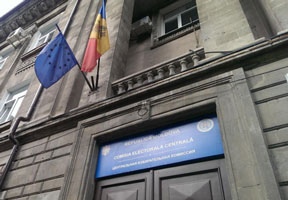 The Moldovan Central Election Commission has dispelled the accusations put forth by the Party of Action and Solidarity (PAS) that the Commission is allegedly ignoring the legislation on the funding of election campaigns. The CEC reminded that unlike parliamentary and local elections, presidential elections are run not by political parties but by individuals – real persons.

"In such conditions, a political party or a voting bloc may not identify themselves with a running candidate. Any financial support, rendered by a political party for the candidate the organization has nominated, is done in conformity with the conditions applicable to a legal entity within a law-stipulated limit of 12 average monthly salary sizes in the national economy in the current year", reported the CEC.

The Commission reminded that at the 2016 presidential election, candidates for president also dissociated themselves from parties or voting blocs, but the 'ceiling' of permitted donations was much higher then – up to 400 average monthly salary sizes.

"The financial support 'ceiling' was lowered by amending the electoral legislation in August 2019 on the initiative of this very political party – the PAS, which is now putting forth unfounded accusations against the CEC", wrote the Commission.

It also refuted assertions that donations for candidates can be made only starting from October 1.

"A bank account, to be marked "Electoral Fund", may be opened yet before the registration of an election runner as candidate, but only on condition that money from this account may be used only after the said person has been officially registered as a candidate. So, the two candidates, already registered by the CEC to-date [Renato Usatii and Andrei Nastase], are free to open their bank accounts, receive donations and pay their electoral expenses", explained the Central Election Commission.