NCFM: THE INSURANCE SECTOR IS AN ATTEMPT, THE NEXT "TARGET" WILL BE SYSTEMIC BANKS
20 november, 2020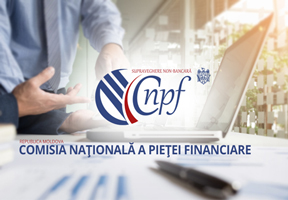 The National Commission for Financial Markets (NCFM) is outraged by the way Confidential-Audit is trying to challenge the decision to introduce a special administration in Moldasig.
According to a press release released Friday night, the regulator notes that "a long battle is beginning" with "catastrophic" consequences at the national and international level.
The NCFM emphasizes that it received "written on knees" complaints from Confidential-Audit. The Commission regarded this as "a mockery not only of the regulator but of the state as a whole".
"The NCFM believes that the statements were "directed by an invisible hand". These provocations are nothing more than an attempt on a government institution, on national security and the common sense of all this", said the Commission's press release.
The NCFM believes that this is the first attempt to check the vigilance of state institutions, the next "target" will be systemic banks with an overwhelming share of the financial market.
"The insurance sector is an attempt, the real bet is the banking sector. A long battle begins", noted the Commission.
To the press release, the NCFM attached a handwritten Confidential-Audit complaint.
Also on Friday, November 20, the NCFM decided to introduce a special administration in Moldasig. The Commission stressed that the representatives of the companies Confidential-Audit and Altimeea delegated to manage Moldasig, appointed by the court decision, "do not meet the requirements set by the NCFM" and can harm the financial security of the company.
Earlier, the NCFM blocked the accounts of the Moldasig insurance company. This measure was taken by the Commission after the Riscani court had decided to return part of the Moldasig shares to Veaceslav Platon, who was recently released from prison. In accordance with the Court decision, Platon, accompanied by security agency employees, brought new managers to the Moldasig: Confidential-Audit and Altimeea. The NCFM decided to block all the deals until all circumstances are clarified. Also, NCFM will challenge the Riscani court decision at the Chamber of Appeals.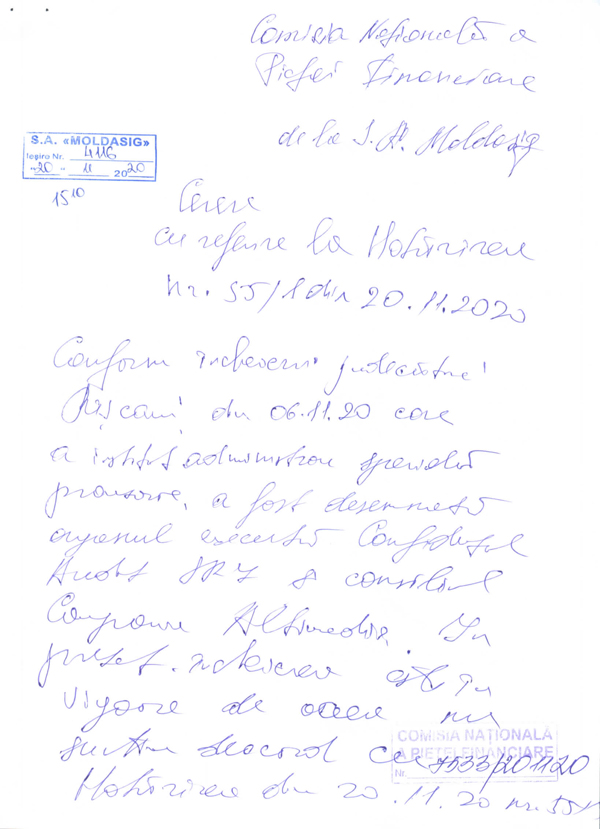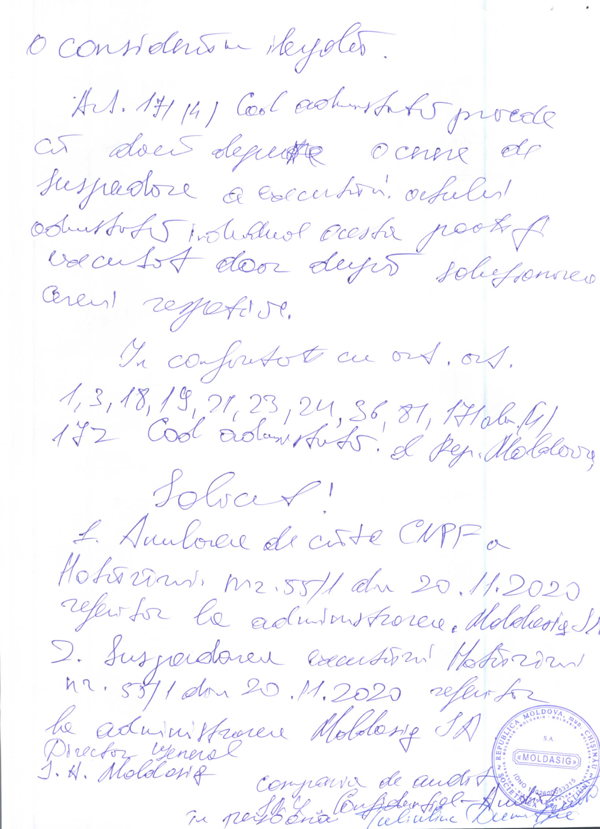 IT IS OUNLY THE START!

YOU MEEN OUNLY BEGINNING?