​MAIB CELEBRATES 25TH ANNIVERSARY
27 april, 2016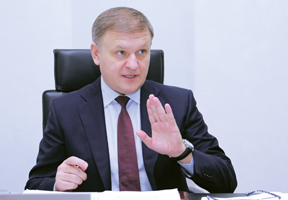 The Moldova Agroindbank (MAIB) – the country's largest financial institution – makes 25 on May 8. Out of these 25 years, Chairman Sergiu Cebotari worked there for 21 years. In the run-up to the jubilee, Director of the Infotag Agency Alexandru Tanas interviewed the bank's governor.
Interview's Part 2 of 2. MAIB Has Everything It Needs To Remain Most Demanded Moldovan Bank.
Q: MAIB has always been a bank that participated in the capital of other enterprises. How many such assets there are in the bank's portfolio and what companies are these?
A: We have preserved the investment portfolio since 1990s. We store in it certain packages of shares in other companies. Today we do not direct resources to buying such assets anymore, maintaining there are not enough reasons to invest in this. We have been doing this on the verge of creating the corporate market, when many enterprises have been privatized, including at the expense of national patrimonial bonds. This process was especially active in moments when the concentration of packages or selling of companies occurred. We regarded as important for the bank to participate in several sectors of economy in order to intensively develop them later. By the way, we have been very successfully doing this in many fields, including in the sugar beet complex, being shareholder in the Sudzucker Moldova Company.
Q: Is the bank shareholder in the Glass Container Company?
A: In the Glass Container we are shareholders of two factories: Glass Container Prim and Glass Container Company.
Q: MAIB has shares only in the capital of these three issuers?
A: We have assets in MoldMediaCard, MAIB-Leasing, Credit Bureau, Stock Exchange, National Depository, as well as a small package in the VISA International Card company. In total, the portfolio includes shares of 12 companies.
Q: Are there assets in MAIB that should be sold?
A: All the assets in our investment portfolio are for sale, except the MoldMediaMart Company, which we need for efficient operational activity at the second stage. Though, it can also be sold to transit to outsourcing.
Q: From the today's position, are there any mistakes and decisions you would change?
A: I think it is impossible to avoid mistakes. Only the person who does not work at all, makes no mistakes. Maybe, at a certain stage, not the most right or correct steps have been made at taking decisions, which from the point of view of the bank's today vision, should have been taken faster. I mean decisions on shareholders structure also. However, this should have been done at the early stage of MAIB development.
Q: For example, could the issuer redeem the 19.8% shares, which have been withdrawn from the bank in early 2000s?
A: At that stage we were thinking and assessing the situation in a different way. Maybe, back then shareholders have not been thinking about this so deeply. You know, all of us are wise after everything has ended and everyone understands what and how should have been done. This happened very fast, both foreign shareholders sold their packages without asking us. But I adhere to the position that one should not feel sorry about anything. Before that and after that the bank has been developing well.
Q: On May 8 the bank makes 25, out of which you have worked in it 21 years. What does this time mean for you?
A: Many things may be said about this, after all it is about 2 decades! I can say that the MAIB became for me a second home. I have worked a lot in the previous team, together with which we were creating the bank's normative basis. By the way, the bank continues to work on this basis today. We have always worked with external consultants, which was a good school of professionalism for our employees. I got a great practice in this bank, starting to shape myself as a leading manager. I think that the fact that I have been and remain a team player is important for the bank.
Q: Over a quarter of a century, the MAIB has changed three governors. During the replacement, the succession has been preserved, when everything had logic continuation, when there was no need to close the page and start everything from the new page. How important is this for the bank?
A: The succession has an important role in the banking sector. I do not think that had I gone to another bank with such an experience, I would have felt myself so easy and free as I feel in the MAIB. For an efficient administration of the bank, it should be well known from inside. This is demonstrated also by the practice that shows that the leader stays long in his chair not just because he is the best. The succession, deep and comprehensive understanding of the situation are very important in the banking business. Not less important is that your team, shareholders, clients to believe in you. This list of requirements represents the most important qualities for any bank governor. You should be leader; without leadership skills and charisma I do not see how it is possible to administrate such a large bank.
Q: Over more than 21 years of work in this bank you have already grown together with it, knowing its most hidden secrets. How much do you think you will keep standing at the MAIB helm?
A: Over so long period of work in this bank I have already got something very important even at the level of mentality, as when the MAIB name is uttered, I associate myself with this brand, felling myself a part of the bank's name. I think that each governor has to feel how he is going to develop the bank when he is appointed. And the most important: he has to carefully keep balance and to understand and catch the right moment to step down. If such moment is missed, the further work is inefficient.
I understand very well that all the stages are temporary. For me it is very important that in my time everything to be done to the maximum. If over time you fulfill yourself, you reach goals important for the bank, you feel professionally satisfied. As long as I work here, I will always make efforts to create a safe and quality bases, so that the bank to have a high price and great future.
Q: Do you think that such leader should obligatorily be from the MAIB?
A: I have never thought that our bank should be managed by citizens of other countries or Moldovan citizens, who studied abroad. I have already been saying that MAIB head should be a real and worthy manager, able to consolidate around him a team of professionals for developing and raising the bank's price. A successful banker needs to timely take necessary decisions, to correctly set goals to himself, his team and the personnel in general and achieve good results, success and recognition.
Q: How soon foreign investors may appear in the MAIB?
A: It is difficult to say, but just as other branches of economy, the banking sector is not very attractive for investments now. We have to make order, to fulfill all the recommendations given by Moldova to its external partners, including in the banking system. As for the arrival of investors in the capital, here everything depends on bank's owners. If shareholders want to sell shares, this is quite real.
However, I would like to say I see the bank's development not only in presence of foreign capital. We have to demonstrate now that the MAIB is a quality bank. If a bank has domestic capital and shareholders are also local, for the institution it is important to be transparent and to correspond to high quality standards. Not less important is to have a strict and efficient corporate management. It is not so important to have foreign investments in the capital. Our bank is capitalized enough, though I do not exclude that the bank capital may include foreign portfolio investors. The time will tell. I would like to add that we have been and will always be an attractive bank for investors.
Q: Is the MAIB going to open a representative office or a daughter abroad?
A: If analyzing the Moldovan banking market, it is possible to develop here, hardly working on the quality, process automation, implementing of new projects, lowering of their prime cost, but there is not much place to extend here. On the other hand, for coming to other markets we have to fulfill high requirements, to implement modern technologies. Now we are working on this, we are analyzing the situation on markets.
Q: Thank you for your interview, Mr. Cebotari.