​OPENING OF NATO BUREAU IN CHISINAU IS INSTRUMENT OF RAISING EFFICIENCY OF ORGANIZATION'S PROJECTS – MOLDOVAN FORMER DEFENSE MINISTER
05 december, 2016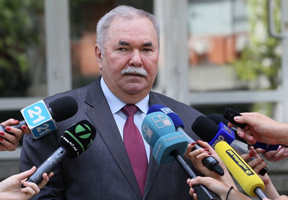 Infotag's interview with Liberal Democratic Party Chairman, ex-Minister of Defense Viorel Cibotaru.
Question: Mr. Cibotaru, is it possible to say that the Moldovan authorities' repeated appeals to NATO leadership for support were caused by the regional context and by attempts to ensure a new filling of mutual relations?
Answer: Certainly. And here, the example of our European integration partners, Ukraine and Georgia, has played an essential role. Both Kiev and Tbilisi have been cooperating with NATO much longer and broader than we, and have NATO Bureaus functioning.
It was an attempt to diversify relations with Moldova undertaken after the NATO Summit held in Wales 2 years ago. At the Summit, Moldova was offered two initiatives. The first was NATO Defense Capacity Building Initiative (DCBI) envisaging NATO's assistance to analyze Moldova's current defense ability and to determine spheres to develop. And the second was the Inter-Operation Platform, which is the official Chisinau's response to the challenges of the present time.
Q: Can you say how long ago did the NATO Bureau idea appeared in Moldova?
A: We had long watched the activities of such offices in Kiev and Tbilisi, analyzing their efficiency. For instance, the NATO Bureau in Kiev employs 16 highly qualified specialists of various profiles. But Ukraine has an incomparably broader cooperation with the North Atlantic Alliance. And the experts work on a multitude of directions – from scientific researches (Program "Nation and Sciences") to humanitarian projects.
A second moment: Ukrainian and Georgian military contingents are much more involved in peacekeeper operations conducted under the aegis of NATO, United Nations and other international organizations. Thus, the Ukrainian military are operating in Afghanistan and several 'hot spots' in Africa. As for Moldova, we have only one contingent, taking part in peacekeeper operation in Kosovo for a third year now. One should understand that participation in such kind of operations raises the participating countries' prestige and significance in the eyes of partners and the world public opinion.
As for the status of NATO Bureaus in partner countries, these are the Organization's working organs in the countries NATO collaborates with. They have the status of diplomatic representations.
Q: Can one say that Moldova's way to NATO Bureau opening was fast and that the Organization responded promptly to Chisinau's requests?
A: Of course not. NATO has attentively followed internal processes in Moldova last few years. They did not rush at conclusions. At a certain moment, they even considered giving up the opening idea. But in March 2015, when I was in Brussels as minister, I officially reaffirmed the Moldovan Government's opinion. The same was done by then-Prime Minister Chiril Gaburici during his official visit to NATO Headquarters.
After that, there was the statement made by the Republic of Moldova's Supreme Commander-in-Chief, President Nicolae Timofti on that issue. Therefore, the official Chisinau had expressed minimum three times its request to open a NATO office in Chisinau.
Q: How do you think, which projects could NATO experts embark on straightaway?
A: We should first see how many experts the Bureau is going to employ – one, two, ten? This is essential. Will these be specialists from NATO member countries or from partner countries? Even such indirect details provide much food for conclusions. It was somewhat funny to me to hear Prime Minister Pavel Filip's reasoning on how we will be cooperating with NATO – that it will allegedly be not "friendship against somebody" and the like. We should not forget that NATO is first and foremost a military-political organization.
Q: How do you assess the condemnation of the Bureau opening initiative by president-elect Igor Dodon?
A: I don't wish to enter into such polemics – useless and pointless. He could well make such statements when he was just the Chairman of the Party of Socialists, but not now when he is a president-elect representing the interests of all citizens of the country. What I can agree with from all his statements on military issues is that Moldova must have its territory free of whatever foreign military contingents – from whatever foreign country, first and foremost Russia because it is exactly Russia that keeps its troops here through its military separatists in Tiraspol.
Infotag: Thank you very much for your interview, Mr. Cibotaru.
Infotag's dossier: Moldova's cooperation with NATO develops within the framework of the NATO Partnership for Peace Program, which the republic acceded to in 1992. With the North Atlantic Alliance's assistance, a number of essential humanitarian projects has been implemented here, including the evacuation of thousands of tons of old dangerous pesticides 'inherited' yet from the Soviet times. Also, NATO is rendering assistance to the strengthening of Moldova's cyber security etc.