JULIA MONAR: THERE IS WIDESPREAD AND DEEP CONCERN AMONG ALL EUROPEAN PARTNERS ABOUT INFRINGEMENT OF DEMOCRATIC STANDARDS BY INVALIDATING THE RESULTS OF THE LOCAL ELECTIONS IN CHISINAU
19 july, 2018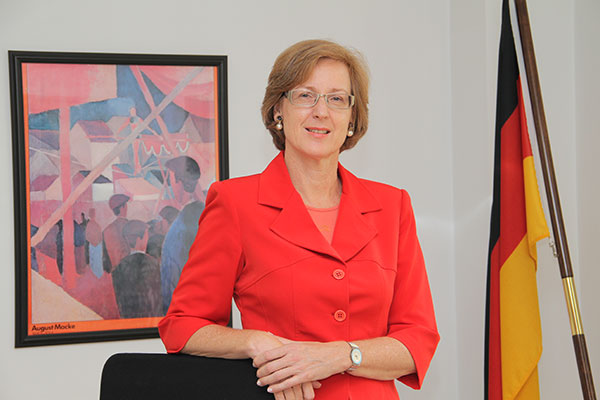 In an exclusive interview with Infotag's correspondent Margareta Mocreac, Germany's outgoing ambassador to Moldova Julia Monar has spoken about the invalidation of the Chisinau mayoral election, the parliamentary elections, ideas that could unite Moldovans and possibilities of boosting Moldovan-German trade.

PART 1: Any democratic outcome of the elections should be respected and not subsequently called in question.

Infotag: Your Excellency, you arrived in Moldova in September 2017 and soon you will leave our country. Have you encountered any particularly challenging situations during your mandate in Moldova?

J.M.: I must admit that the current situation is a challenging one, since it shows a lack of respect for the outcome of a democratic election which we, members of embassies, accompanied and witnessed ourselves.

Infotag: Do you refer here to the recent invalidation of the results of the mayoral election in Chisinau? What is your opinion about this situation?

J.M.: Invalidation of the results of the local elections in Chisinau deprived people of their democratically elected mayor, Mr. Andrei Nastase. All observers, including myself who monitored the two rounds of elections, had recognized that the voting process was free and fair. The alleged violations of the electoral code should have been sanctioned by fines and not led to annulment of both election rounds. The joint statement of EU High Representative Federica Mogherini and Commissioner Hahn from June 27 and the resolution adopted by the European Parliament on July 5 show that there is widespread and deep concern among all European partners about this infringement of democratic standards.

Infotag: Moldova will hold parliamentary elections in late 2018 or early 2019. Each election is important, but many experts say that these elections are the most important since the country's foreign vector depends on them. In your opinion, how important is the outcome of these elections for the future of Moldova, as well as the future of its ties with the EU?

J.M.: Of course, the outcome of these elections is important for the future of Moldova and its ties to the EU. Much has been achieved already, and the further implementation of the association agreement has the potential to improve lives of ordinary citizens by constructing infrastructure, strengthening local institutions, increasing exports, just to name a few. But don't get me wrong: It is, of course, entirely up to the Moldovan voters to make up their minds on the basis of these facts and cast their ballot for the party and candidates that they believe will lead Moldova to a better future. And any democratic outcome of the elections should be respected and not subsequently called in question.

Infotag: Moldovan leaders promise to organize "fair, democratic and correct" elections. The opposition is already talking about unequal chances and a possible fraud. Is the organization of a correct election possible in Moldova today?

J.M.: I would not limit myself to the election process itself, but rather focus on what will happen in the months leading up to these elections and after the elections. For me, it is paramount that the Moldovan people are able to freely choose from a range of political options, after having had the chance to learn what these options consist of and will mean for their future. This includes freedom of the different media outlets to present candidates and parties, their political programs and their visions for a future Moldova. But democratic elections would also entail equal chances for all candidates to run for a political party without fear of them or their family being subjected to pressures or threatened of losing their jobs or being persecuted for alleged wrongdoing.

Infotag: The pro-Russian opposition says that the EU and other international partners often "close their eyes" to the irregularities committed by Moldova's pro-European government and, thus are "to a great extent", responsible for the current state of affairs in the country. What will be your response?

J.M.: I believe that EU will always insist on the values embodied by this union of member states and which we expect our partners to honor and respect. The EU proceeded to sign and implement the Association Agreement and liberalize visa in order to increase Moldova's political and economic ties with the EU. There were, of course, moments when we felt that our trust in our partners had been betrayed. But we did not close our eyes but instead reacted sharply, e.g. by freezing EU budget support in 2015, after the bank fraud had been discovered. And when there was no progress in reforming the justice sector, the EU consequently refused to disburse the respective part of the budget support. Similarly, when the Moldovan authorities decided to adopt a new electoral code without respecting the recommendations of the Venice Commission and OSCE/ODIHR, the EU introduced political conditions in the MoU about macro-financial assistance for Moldova.

Infotag: Moldovan society is split between those who want integration into the EU and NATO and the Russia-led economic union, between those advocating unification with Romania and those saying Moldova should remain independent. Experts speak about the need for an idea that would unite rather than split Moldova. What could such an idea be?

J.M.: Of course, some of these options are mutually exclusive, such as signing an Association agreement with the EU and joining the Eurasian Economic Union. Preserving Moldovan statehood on the one hand and unification with Romania on the other are equally incompatible. However, after its association with the EU, Moldova is free to pursue friendly relations and close political ties with its Eastern neighbors. And due to its shared history, language and cultural heritage, Romania will always play a special role for Moldova, defending its interests and providing generous assistance in every respect. Of all the ideas that would unite Moldova, I found particular appealing the call for a strong, common civic identity that would allow inhabitants of this multi-national state to emphasize their visions of a just and equitable state in spite of differences in language and origins.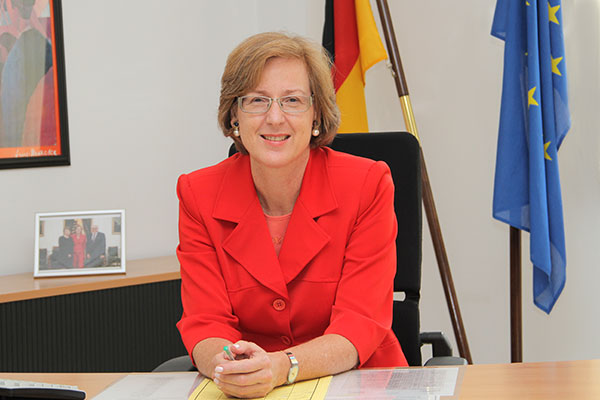 PART 2: Moldovans could unite around the call for a strong, common civic identity.

Infotag: Corruption is one of Moldova's main problems. The authorities give assurances that they take measures to curb it. Could you please point out the government's successes and failures in this area?

J.M.: The recent strengthening of the National Integrity Agency, increasing its budget, recruiting of inspectors to check the income statements by civil servants, prosecutors and judges are important steps in the right direction. However, corruption is a phenomenon that needs to be tackled at many levels, not only by the government. Society as a whole must be aware of the damaging effects of corruption and encouraged to denounce it whenever they come across a case in point. Investigative journalists should be able to do their research and uncover cases of corruption without fearing prosecution or other types of menaces. And prosecutors and tribunals have to implement the criminal code by bringing cases of corruption to trial, sequestering unlawful gains and issuing sentences to the violators of those norms.

Infotag: Let's now talk about economic relations between Moldova and Germany. One of the successful examples of German investment is Draexlmaier Group which operates in the free economic zone of Balti. Based on this example, what should Moldova's government do to attract more German investments to Moldova?

J.M.: Foreign direct investment represents a long-term decision of a company. Besides factors like infrastructure, level of wages, taxation etc. the security of the investment is what counts most. The AA/DCFTA between the EU and Moldova provides a general favorable framework to all investments in the country. Furthermore, a transparent regulatory framework, reliable and non-bureaucratic institutions and a functional and independent justice system for settlement of potential disputes are indispensable preconditions for attracting investments. German business representatives often mention the deficits in the Moldovan justice system as a particular concern and a disincentive for newcomers to invest in Moldova.

Infotag: In 2017, the German hypermarket chain Kaufland has announced plans to open 15 hypermarkets in Moldova, including 3 in Chisinau. Many local retailers have expressed concern that they would not be able to cope with Kaufland and will have to close down. How justified are those concerns?

J.M.: I am aware of the arguments brought forward by local suppliers and retailers. However, international retail chains worldwide are, in general, very interested to offer regional products in their shops, because those products are often fresher, better and cheaper than imported ones. I am thus convinced that local producers with a reliable supply chain and quality products will get their fair market share. And more competition will finally lead to lower food prices, which means that Moldovan consumers can buy more and get better value for their money.

Infotag: Moldova's exports to Germany represent less than 7% of total exports. Imports stand less than 8%. In what areas of bilateral cooperation is there the biggest potential for growth, in your opinion?

J.M.: In my opinion, we have witnessed a very dynamic development within the last years. The company Dräxlmaier has been successfully operating in Moldova for more than a decade and is now going to open a new production facility in Cahul. Other companies from the same sector like Sumitomo Bordnetze, Fujikura or Coroplast – just to name a few – arrived later, but are doing equally well. I see potential for growth in the manufacturing and supply industry, even though those industries feel the lack of skilled workers. But also the agricultural sector, which traditionally plays a pivotal role for Moldova, has a lot to offer: wine, nuts and organically grown vegetables for example. Organic products are very popular in Germany at the moment and consumers are ready to pay a higher price for them, opening up opportunities for Moldovan producers to export more to Germany.

Infotag: What would be your recommendations for Moldovan business that want to explore the market of Germany and for German business that are interested in Moldova?

J.M.: Attracting investments and exploring new opportunities for enhancing exports are among the top priorities of Moldovan missions abroad. Traditionally, the Embassy in Berlin and the Moldovan consulates in Munich, Frankfurt and Hamburg might thus be the first helpful entry points for Moldovan businesses that want to explore the German market. Furthermore, the "Ostausschuss der deutschen Wirtschaft – Osteuropaverein" could also provide valuable information. Businesses from abroad – and not only German ones – can address the European Business Association (EBA) and the economic development team of the GIZ (the German implementing agency for economic cooperation) if they seek concrete advice and recommendations on how and where to invest in Moldova.

Infotag: Moldova reported a 4.5% GDP growth in 2017. Yet, most Moldovan businesses and ordinary citizens we talk to say they don`t feel this growth. In such developed countries as Germany a 2.5% growth is considered good and is felt by everyone. Isn't this a paradox?

J.M.: The German economy is not only the biggest economy in Europe, but one with minimal systemic and political risks and a constant growth over the last years. Inflation and interest rates are at a very low level, public and domestic consumption is up, taxation is stable. Against this background, a GDP increase will lead to higher wages and salaries. The situation in Moldova is different, even though also here salaries have gone up recently. The predicted GDP growth of 3.8 % for 2018 is considerable, but not sufficient for Moldova because starting point and absolute figures of the Moldovan economy are much lower. You need a higher growth rate to produce the same beneficial effects for the citizens and at the same time contain certain factors like inflation that can otherwise easily offset the positive development. But I am confident that this can be achieved here if certain conditions I already mentioned are met and the business climate improves.

Infotag: In recent years we could observe that the Moldovan tourism industry has been growing, yet, there is still room for improvement. What do German tourists expect to see in such small developing countries like Moldova?

J.M.: Moldova definitely has the potential to attract more German tourists. But you need to expand the touristic infrastructure, including agro-tourism in the regions, if you want to boast tourism from Germany. I am not talking about new five-star-resorts, but rather about small, quiet and traditional lodgings that offer leisure activities like hiking, biking or horse riding in a beautiful and idyllic countryside or cultural events. The village of Butuceni in Orheiul Vechi or wineries all over the country are good examples of how you can successfully follow this path. In Germany, there is a strong demand for such affordable and eco-friendly tourism within a flight distance of only a few hours.

Infotag: What do ordinary German people know about Moldova?

J.M.: Some Germans can relate to the country designation of Moldavia, especially people who grew up in the former German Democratic Republic, and some of them remember the wine production even from Soviet times. There is a very good tourist guide on Moldova, a new edition of which was just published last year.

Infotag: But what don't they know about it?

J.M.: I am afraid ordinary German people don't even know where Moldova is located or the name of its capital city. And of course, they would not know about the great hospitality of the Moldovan people, the beautiful countryside, the delicious and healthy food, traditional dances and the medal-winning wineries.