MOLDOVAN JOURNALIST DENIED ACCESS TO RUSSIA
17.12.2007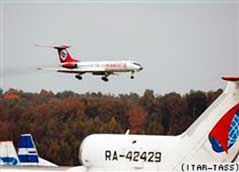 Chisinau. Correspondent of the Moscow magazine - The New Times Natalia Morari was forbidden to enter the territory of Russia. Leading international mass media communicated this during the last weekend.

According to their reports, the ban was introduced on the order of the central apparatus of the Federal Security Service on the basis of the Federal Law "On the Procedure of the Enter to and Exit from the Russian Federation". Chief of the Border Service of the Domodedovo airport, whose name is not given, told this to journalists. In his words, it was forbidden to enter Russia on the basis of Article 28 of the above law. In particular, this article says, a foreign citizen is not allowed to enter Russia, if it is necessary for providing the state's defense capacity or security, or public order, as well as, if a decision on the non-desirability of certain citizen's stay (living) on the territory of the Russian Federation is taken.

Natalia Morari was detained, when she was passing passport control Saturday evening, when a group of journalists from the New Times returned to Moscow from their trip to Tel-Aviv.

The journalist is Moldova's citizen, who has an agreement with Russia on a visa-free exchange. The girl came to Moscow, she was duly registered there, received a labor permission and was on the staff of the magazine. In accordance with the Russian Law, she was registered in Moscow until December 31, 2007 and received a permission to work there.

Employees of the passport service told the girl that the term of her Russian visa is allegedly exceeded, that is why her further stay on Russian' territory is impossible. The night from Saturday to Sunday she passed in the room for those to be deported and Sunday morning she left for Chisinau in a joint flight by Air Moldova and S7 at 10:15. In the Chisinau airport she wrote an explanation statement in the Border Service, after this she went to the city. It is expected that on Monday Natalia Morari will address to the Consulate department of the Moldovan Ministry of Foreign Affairs and European Integration for consulate assistance.
Morari's colleagues associate her deportation from Russia with her last essay, devoted to the so-called "Kremlin black cash", which finances all the Russian political Parties. Earlier the girl cooperated with Mihail Hodorkovsky's "Open Russia" fund, then she was the Press Secretary of the opposition coalition "The Other Russia".
The New Times magazine is one of the opposition periodicals of Russia. Its editor, who is famous journalist Irena Lesnevskaya, and her son Dmitry set up the Ren-TV Channel in 1997. In 2005 they sell their block of shares and left the TV channel. Irena and Dmitry Lesnevsky own currently the REN-MEDIA-GROUP holding, which includes the New Times publishing house and the MINI MOVIE international TV channel for short films.