RELATIONS WITH MOLDOVA REMAINING A PRIORITY FOR ROMANIA – PRESIDENT BASESCU
24.01.2008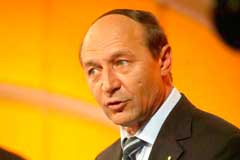 Chisinau. Romanian President Traian Basescu has reiterated that ties with the Republic of Moldova and with the Romanians living abroad are remaining one of his country's chief external political priorities.

On Wednesday, he organized a meeting with the foreign diplomatic corps working in Bucharest, and explained that Romania and the Republic of Moldova are linked with a deep historic and cultural closeness, "and we hope that the hard reforms, which Moldova has to implement on its way to the European Union, will be supported by our European partners as well, and they can offer to our neighbors behind the Prut River a perspective analogous to the one offered to Western Balkan states. We want Moldova to fully avail itself of the advantages of a neighbor to the European Union."

President Basescu said Romania welcomes any efforts to consolidate Moldova's territorial integrity and resolve the Transnistria conflict.

"We are expressing hope that this unique conflict will be resolved in an optimum manner, independently of a political or economic evolution in the region", emphasized Traian Basescu.