APPEALS CHAMBER TO EXAMINE LEGITIMACY OF MIHAI GHIMPU'S ELECTION AS CMC CHAIRMAN
05.02.2008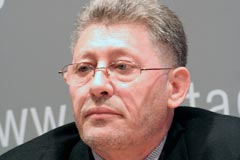 Chisinau. On February 18, the Moldovan Appeals Chamber will consider the legitimacy of Mihai Ghimpu's election as Chairman of the Chisinau Municipal Council [city legislature]. His holding this post has been challenged by Gennadii Glushenko, the Ministry of Local Public Administration's staff lawyer.

Glushenko stated to ProTV-Chisinau channel that the Resolution on appointing Ghimpu to this position was an unlawful act because it did not indicate sources of paying salaries to the Council Chairman or his staff.

Ghimpu qualified the charges as unfounded, claiming he had not used even a leu from the municipal budget, and had never used an office car yet. Ghimpu also stated that, moreover, he had not used a leu in salary for his work as a Chisinau municipal councilor prior to his becoming the city legislature speaker.

"On the contrary, it is the Chisinau Primaria [city government] that uses my money, material values, and my time", stated the Council Chairman.

He is convinced the problem definitely has a political sub-current: "The central Communist authorities are looking for a pretext to stir up a big quarrel. They have announced a war of nerves against us in the hope we will surrender. But they are deeply mistaken. We shall keep on doing our jobs. I guess they should better challenge in court their own illegal decisions they passed before June 2007 [when the all-republican local elections were held here. Before that time, the ruling Communist Party had a majority in the CMC]".

However, the unyielding lawyer is maintaining that if there was really no violation of the appointment procedure, Chisinau Mayor Dorin Chirtoaca [who is Mihai Ghimpu's nephew] must have responded to the Ministry's charges. However, the Mayor only said evasively the election and appointment of Ghimpu to the post was within the incumbent legal norms.