OPPOSITION DISCUSSING CHANGE OF GOVERNMENT…
25.03.2008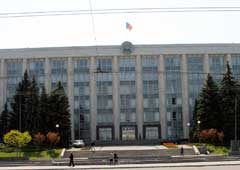 Chisinau. The Moldovan opposition presumes that even the Communists do not know yet what the composition of new Government is going to be, the representatives of several opposition parties said on the ProTV-Chisinau channel Monday night.

They shared an opinion that the last week's removal of the Vasile Tarlev Government had a direct relation to the approaching 2009 parliamentary elections.

The National Liberal Party leader, independent MP Vitalia Pavlicenco said the March 15 congress of the ruling Communist Party failed to put into life the changes the Communists had advertised so long before the forum, "so the resignation of the Tarlev Government was designed to create an illusion of changes, and I guess the resignation was prepared and carried out by a dangerous group working in the presidential office".

She stressed that over the 7 years of governance, the Communists have brought the country to a deplorable condition, and now they have resorted to government resignation to smokescreen their failures.

Liberal Party leader Mihai Ghimpu, who is also the Chair of the Chisinau Municipal Council [city legislature], said, "It's not Tarlev who has fallen, but the Communist leadership. If the Tarlev Cabinet governed the country well, the Communists would not be afraid to go for elections together with it. And now they are trying to make a scapegoat of Vasile Tarlev."

Moldova Noastra Alliance First Deputy Chairman MP Veaceslav Untila named the resignation "a pre-election trick by the Communists who only imitate reforms in the republic… They are trying to prove they are bringing in a new team able to do something. But they will be unable to fool voters, who already said 'no' to the Communists at the 2007 local elections".

Untila said that the Tarlev Government and the Communist leadership as a whole have suffered an economic defeat, for they have failed to ensure a real growth, and the republic continues to live on external loans.