PRESIDENT VORONIN SAYS THAT INTERNATIONAL EVENTS INFLUENCE ON TRANSNISTRIAN SETTLEMENT
31.03.2008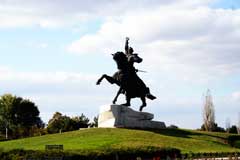 Chisinau. Moldovan President Vladimir Voronin maintains that international events influence on the Transnistrian conflict settlement progress.

Last Friday night, the head of state gave an interview to the NIT television channel of Chisinau, and said that, for instance, the settlement is influenced by events taking place in Europe and at a wider international arena, by the discord over Kosovo developing between major powers, by the Agreement on Conventional Forces in Europe (CFE), by the possible Georgia's and Ukraine's accession to NATO, and other developments.

"Presently, the major powers are in negotiations, and we have nothing left but wait for negotiation results. Should any changes be achieved in resolving the country integrity problem, this means we have to make some concessions. We are nowadays hostages to the great powers' geopolitics", said the Moldovan President.

Vladimir Voronin also said he is going to raise this question at the NATO Summit due in Bucharest later this week.

In his words, "a whole number of problems in the Transnistrian conflict settlement have already been overcome, and a certain progress achieved". He meant the registration of Transnistrian economic operators with Chisinau, the European Union Border Assistance Mission to Moldova and Ukraine (EUBAM), provision of over 300 thousand Transnistria residents with Republic of Moldova domestic passports.

The President emphasized as "very important that for the first time ever, an official statement could be heard from the Russian State Duma tribune that the Republic of Moldova must remain an indivisible state and that any federalization of the country is out of the question".

In his words, this time, too, the package of documents, worked out for settling the Transnistria conflict, must be considered and signed in the format of 5+2.

"The only document, which we are planning to sign without Tiraspol's participation, is the document on international recognition of the Republic of Moldova's neutrality", said the President.