PRESIDENT VORONIN SAYS THAT MOLDOVA WILL BE DEVELOPING GOOD RELATIONS WITH RUSSIA
31.03.2008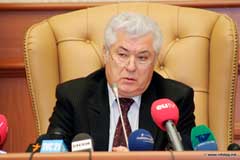 Chisinau. The Republic of Moldova shall keep on developing good relations with Russia, Moldovan President Vladimir Voronin stated on the NIT channel last Friday night.

"Those warm, friendly relations, which have settled between me and Russian President Vladimir Putin, will be preserved also with the Russian president elect, Dmitry Medvedev. I am deeply convinced the relations will remain good, and will be further developing. Dmitry Medvedev will inherit from Vladimir Putin the position in the relations favorable for us", Voronin said.

He stressed that over last 7 years, he had "over 40 bilateral meetings with Vladimir Putin", and that he has already met Dmitry Medvedev twice.

"Moldova ought to promote its national interests. And though we have determined our strategic course for European integration, we must develop good relations with Russia, otherwise we will be not able to resolve the Transnistria question", said Vladimir Voronin.

He is convinced Moldova needs to preserve for itself the traditional Russian market "because our produce is not yet ready for exports to the European market", and because "so far, Moldova buys energy only from Russia".