PRESIDENT OF MOLDOVA PAYS TRIBUTE TO RUSSIA'S ROLE IN TRANSNISTRIA CONFLICT SETTLEMENT
14.04.2008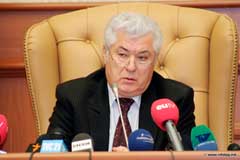 Chisinau. Russia plays the leading role in resumption of the Transnistrian conflict settlement negotiations, Moldovan President Vladimir Voronin stated in his interview to the Rezonans television program cast last Saturday.

"After the meeting I had with Russian President Vladimir Putin, the situation has cardinally changed. We have managed to organize a meeting with Transnistrian leader Igor Smirnov [last Friday], and we shall be advancing steadily toward restarting full-scale negotiations in the 5+2 format", said the Moldovan President.

In Voronin's words, during the April 11 meeting in Bendery, he gave all necessary instructions to the working groups, "who will be working hard next 2 weeks and will prepare proposals on confidence building measures and rapprochement of the sides' positions".

"This done, there will be a new meeting with Igor Smirnov. Such meetings will become regular, and in case of need we will be contacting each other by telephone", said President Vladimir Voronin.

He expressed satisfaction that the sides had managed to agree on lifting all restrictions to the movement of people between the two parts of the country, "and other results will follow soon, too".

Assessing the new situation in the Transnistrian conflict settlement, Vladimir Voronin voiced what he called "a cautious optimism".

"I have always remained an optimist in my conviction that the Transnistria problem will be resolved within the territorially integral Republic of Moldova. After the recent statement by the Russian State Duma on its recognizing the Moldovan territorial integrity, everyone should understand that it's high time ceasing all speculations about two republics and about federalization of Moldova", said President Voronin.