COMMUNISTS' ACTIVITY AROUND TRANSNISTRIA IS ELEMENT OF THEIR ELECTION CAMPAIGN – CORLATEAN
23.04.2008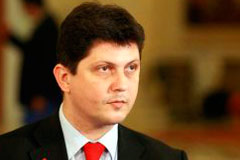 Chisinau. The active efforts being made by the Republic of Moldova's Communist leadership to settle the Transnistria problem are directly related to the forthcoming 2009 parliamentary elections, the Secretary General of the Romanian Social Democratic Party, European Parliament deputy Titus Corlatean stated in his interview with the Timpul [Time] newspaper of Chisinau.

Corlatean remarked the Communists came into power in Moldova having promised, inter alia, that the Transnistria problem shall be resolved within maximum one year, "and the fact that Voronin and Smirnov met only 7 years later indicates a failure of the Republic of Moldova's statehood reintegration policy".

The European parliamentarian believes the chief risk is that Chisinau may agree to "impermissible compromises".

He called as "pragmatic and realistic" the ruling Moldovan Communist Party's wish to enlist an international recognition of Moldova's neutrality. At the same time, he stressed that the Central and East European countries first joined NATO, and that Organization helped them to accede to the European Union.