…SAYS HE NEEDS MORE ATTENTION OF JOURNALISTS
29.04.2008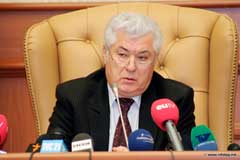 Chisinau. Moldovan President Vladimir Voronin addressed journalists, asking them to not leave him without their attention even for a day.

"Write whatever you like, otherwise everybody will think that I have died", he stated to the program "Meetings with the President" on the NIT television last Friday night.

He reminded to the viewers that over more than 7 years of his presidency, he has never been in litigation with anybody, "and it has even occurred to me to organize an exhibition of caricatures featuring President Voronin. I would attend its opening, cut the ribbon, and invite painters to come. Possibly, in a perspective, the caricatures could be united into a book to be published".

Voronin stressed that though caricatures are never positive or pleasant, he all the same likes this genre and journalists' attention to him.

"In our struggle for power, we [the Communists] are not going to buy ballots as does [the Liberal Democratic Party of Moldova leader, MP Vladimir] Filat", said the Moldovan President. He confirmed his intention to stand for parliament in 2009 at the head of the already governing Moldovan Communist Party, remarking that "the Russian scheme is not suitable for Moldova… Each country has its own Constitution and mentality of voters. And any scheme will be worth nothing if a party fails to have a majority in parliament, or if president belongs to another party", said Vladimir Voronin.

In his words, the history of the young Moldovan statehood has proved that when president has no backing by parliament, he has no backing by government or in the society, either.

"A weak president is welcome only by those who have left without the public trough and who prefer anarchy. We cannot choose such path. And let my future be my future. We are preparing to stand for the 2009 parliamentary election very seriously, and after the election we will see how to divide power", said the President of Moldova.