RUSSIA PREPARING TO REUNITE THE SPLIT MOLDOVA – KOMMERSANT…
16.05.2008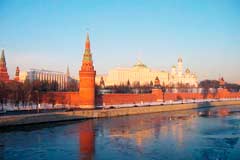 Chisinau. Moscow is preparing to draw the final line in the years-long Transnistrian conflict settlement and to reunite the currently split Moldova, the influential Kommersant newspaper of Russia wrote on Friday.

If this project works off, Russia will prove to the entire world that non-accession to NATO is a direct way towards restoration of countries' territorial integrity, the publication said.

According to it, the official Moscow regards a final and lasting reconciliation between Moldova and Transnistria as an important foreign-political project to prove to the world Russia's efficiency as a peacekeeper, particularly against the background of the disputable Kosovo problem solution.

Kommersant quoted Nikolai Fomin of the Russian Ministry of Foreign Affairs as saying, "We see our historic mission in the unification of Moldova. This is our unchangeable stance".

A real locomotive of the soon-to-be 'breakthrough' in the Transnistria direction should be "the governing tandem of President Dmitry Medvedev and Premier Vladimir Putin… Moscow is preparing a meeting of Voronin and Smirnov on the Russian soil. In the presence of the President and Premier of the Russian Federation, they will shake hands and appoint their plenipotentiary representatives who, in their turn, will work out a formula for political settlement [of the Transnistria conflict] and will agree upon a legal status for the Transnistrian Moldovan Republic".

Kommersant pointed out the resumption of contacts between the speakers of the Moldovan and Transnistrian parliaments, Marian Lupu and Yevgeny Shevchuk, who met in Brussels the day before.

"They spoke out for a soonest-possible resumption of negotiations on the Transnistria problem in the format of 5+2 [Moldova and Transnistria as the conflicting sides, Russia, Ukraine and the OSCE as international mediators; and the European Union and United States as observers]. It is believes that precisely in this negotiation track the parties will work out a solution for the Transnistria problem", the paper wrote.

According to it, already in June Vladimir Voronin will have a possibility to discuss the Transnistria question with the Russia leadership at the CIS Summit in St. Petersburg.

Kommersant emphasized that, certainly, Russia is helping Voronin to get back the rebel region not at all disinterestedly: Moscow is expecting from Chisinau an international fixing of the permanent neutrality of the Republic of Moldova to thus reliably guarantee Moldova's non-accession to NATO.

The neutrality status has been written in the Constitution of the Republic of Moldova, but Moscow believes this is insufficient and is demanding extra guarantees, particularly after Ukraine and Georgia had rushed toward the North Atlantic Alliance. Moscow is also expecting that Voronin will estrange from the GUAM [a regional organization uniting Georgia, Ukraine, Azerbaijan, and Moldova], the more so that last March Vladimir Voronin already gladdened the Kremlin with his interview with Kommersant, when he stated that Moldova may quit "that organization so unfriendly towards the Russian Federation".