COMMUNISTS BLAME OPPOSITION FOR POPULISM…
21.05.2008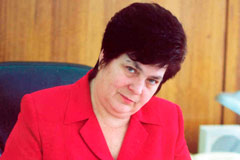 Chisinau. The parliamentary majority Moldovan Communist Party (MCP) faction has resolutely refuted the opposition's accusations that the Communists allegedly blockade all the opposition factions' legislative initiatives. The MCP perceives as purely populist ones such actions of protest as, for instance, the blockading of the parliament rostrum on May 16.

MCP faction chairwoman Eugenia Ostapciuc today published an article in former central governmental newspapers Moldova Suverană and Nezavissimaya Moldova, in which she dispelled the opposition's assertions that, allegedly, the Communist majority [holding 55 mandates in the 101-member legislature] blockades all their legislative initiatives.

"Since the New Year and until May 16, deputies submitted to parliament 357 drafts of legal acts. Of them, 153 came from the MCP and 204 from other factions. The Parliament adopted 145 bills, namely 59 bills prepared by other factions, and 99 are being considered by profiled parliamentary Standing Committees", wrote Eugenia Ostapciuc.

Touching on the May 16 initiative by the Moldova Noastra Alliance faction to blockade the parliament rostrum, she said that this year the MNA put forward 86 legislative initiatives, of which 21 were approved by parliament, 14 were revoked by authors themselves, and 30 are still in process.

Eugenia Ostapciuc admitted that 37 bills put forth by the opposition were really declined but not because those were the opposition's creations. The documents were rejected because they had a populist character, did not indicate financial coverage sources, and contained no Government's approval of the documents.

She drew the readers' attention to an interesting historic fact: in 1998-2001, when the Moldovan Communist Party was in the opposition having 40 mandates in the 101-member forum, the Parliament "did not approve even a single legislative initiative by MCP deputies… But we did not permit ourselves to resort to uncivilized, dirty methods to protect our rights. We did not blockade microphones, did not come to parliament with whistles or megaphones. In a word, we did not violate other deputies' right to work in conformity with their electoral platforms".