…INDICATES WHICH SERIOUS PARTIES SHOULD BE VOTED FOR IN 2009…
02.06.2008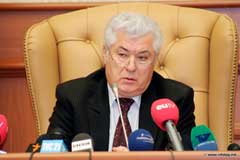 Chisinau. "The serious parties that deserve voting for in 2009 are the Moldovan Communist Party (MCP) on the left, the Democratic Party (DP) in the center, and the Christian Democratic Popular Party (CDPP) on the right", presumes Moldovan President Vladimir Voronin. The parliamentarians from these very 3 parties voted for re-electing Voronin for a second presidential term on April 4, 2005.

Speaking on the NIT television channel last Friday night, the Communist President said the CDPP has recently marked its 20th anniversary, and his Communist Party will soon celebrate its 15th anniversary, which he believes is an indication of their large experience in Moldovan politics.

The President said his Communist Party will stand for the 2009 parliamentary elections with tightly linked ranks, and will thus refute the widespread allegations that Parliament Chairman Marian Lupu and former Prime Minister Vasile Tarlev may run for parliament with other parties.

"All these talks are but a provocation. Lupu and me, we work very well. And with Tarlev I had worked 7 years. Tarlev remains in the MCP team", Voronin said.

He assured the audience that the parliamentary election next year will be held "according to all democratic rules", and that the country's further development course will depend on the outcome of the 2009 polls.

The President strongly criticized the activities by the opposition, particularly the Liberal Party headed by Chisinau Municipal Council Chairman Mihai Ghimpu and his nephew, Chisinau Mayor Dorin Chirtoaca.

"God save us from having politicians like Chirtoaca at the head of the country in 2009! Discontented Chisinau citizens should hold a referendum for removing Mayor Chirtoaca from the post. As a Chisinau citizen, I would certainly go and vote for this", said the President of Moldova.