TARLEV STANDS READY TO HEAD GOVERNMENT FOR A THIRD TIME
09.06.2008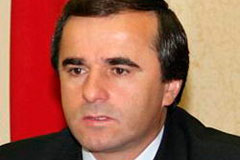 Chisinau. Vasile Tarlev, the former Prime Minister of Moldova (2001-2008), is ready to come and head the Government for a third time.

Tarlev stated in his interview with Logos Press newspaper of Chisinau that should such offer is made to him, he will accept it without hesitation, and that he is open to cooperation.

Asked if he misses the Premier's chair, Tarlev said, "Lately, I live with a feeling of dissatisfaction. I had not have time enough to put all my plans into reality. In my age [45], with my practical experience and potential, with my ability to work round the clock so many things can yet be done".

Tarlev said that he would like to handle "greater-scale projects, but present-day conditions are somewhat different. However, I have no doubt that everything is in store for me".

He further held that last couple of months [since his Government's dismissal] he had received lots of offers from business and political structures.

"I have never belonged to a single political party. But this does not mean the situation cannot change, and events may prompt me to focus on political activities in earnest", he said, but remarked that he feels more like running a commercial business.

Presently, Vasile Tarlev holds only one post – of the Chairman of the Moldovan Association of Commodity Producers.