EU EXPECTS FROM UKRAINE MORE ACTIVITY IN TRANSNISTRIA CONFLICT SETTLEMENT
27.06.2008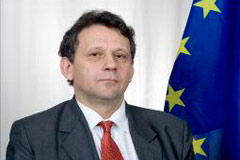 Chisinau. Brussels is expecting Ukraine's more active participation in the Transnistrian conflict settlement process, European Union Special Representative for Moldova Kalman Mizsei stated at the news conference he gave in Kiev, the capital of Ukraine, on Thursday.

The European diplomat explained his words as follows: Ukraine has specific possibilities, including historic ones, as well as long-established contacts and ties that can be used for settling the Transnistria conflict.

Kalman Mizsei proposed Kiev to help Moldova in its economic development, to consult Chisinau concerning European integration, which he believes would serve a good example for neighbors in Eastern Europe.

Upon the whole, the European Union Special Representative for Moldova is expecting from the conflicting sides [Moldova and Transnistria] and the international mediators [Russia, Ukraine, and the OSCE] and observers [the European Union and the United States] not solely "concrete and mutual plans" of the conflict settlement but first and foremost a mutual understanding. Kalman Mizsei believes it is very important to take into consideration various aspects of the Transnistrian conflict settlement.

Mizsei emphasized the need for resuming the negotiation process in the 5+2 format to work out one common solution of the Transnistria conflict, which is very important for the European Union due to the conflict zone's proximity to the EU borders. For this to achieve, the diplomat presumes it is very important to establish a constructive dialog between the European Union and the Russian Federation.