PRESIDENT VORONIN BELIEVES MOLDOVA SHOULD GUARD ITS NEUTRALITY STATUS…
30.06.2008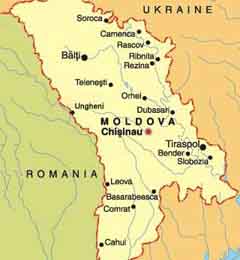 Chisinau. Moldovan President Vladimir Voronin believes Moldova should guard its neutrality status carefully.

Speaking in the "Conversations with the President" program on the NIT television channel last Friday night, Voronin said he was very grateful to those Moldovan parliamentarians who had included the neutrality provisions in the 1994 Constitution, and "no matter if they did that conscientiously or not, the chief thing is that this was a very correct step".

In his words, some European states treat Moldova's neutrality status "with envy, respect and understanding".

Touching on the European integration topic, the President said that integration first and foremost implies the country's internal modernization, that "Moldova only very recently embarked on its reforms in earnest, but this does not mean the republic must necessarily resemble one of European states – Moldova must have specifics of its own. Europe has given us the possibility to become a part of the European cultural, historic, political and economic unity, so why should we not avail ourselves of such chance?"

In his opinion, Moldova "will hardly be able to create an original model of its own, and we actually do not need one…"

"Unification with the European Union will be possible only when every single citizen comes to feel a better life as a result European integration", as the Moldovan leader put it.

He highlighted improvements in relations with Germany, which spoke out last week in support of Moldova's integration with the European Union, and expressed hope that other countries, too, will back the Bundestag initiative.

Voronin voiced regret over how the Moldovan oppositional press rejoices each time the Moldovan Government loses in the European Court of Human Rights, for "they do not understand that the Court condemns not me but all of us – the country as a whole. At the same time, Europe is demonstrating an understanding attitude to domestic problems in Moldova".