RUSSIAN TROOPS PERFORMING OCCUPATIONAL FUNCTION IN MOLDOVA – UKRAINIAN PARLIAMENTARIAN
03.07.2008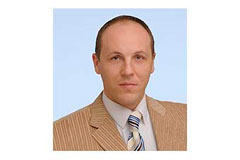 Chisinau. In the conflict zones in Moldova and Georgia, Russian troops fulfill an occupational, not peacekeeping function, Ukrainian Supreme Rada deputy Andrei Parubii, a member of the Rada Standing Committee for Foreign Affairs, wrote in the statement he placed at the website of the pro-Yushenko bloc "Our Ukraine – People's Self-Defense" he belongs.

He wrote, "The Russian troops do not settle the conflicts, as they stand on the side of one of the conflict participants".

In his opinion, the GUAM [a regional organization uniting Georgia, Ukraine, Azerbaijan, and Moldova] is justly standing up for using new methods of settling frozen conflicts with the attraction of all the GUAM member states.