FRANCE HOPES THAT MOLDOVA WILL CONTINUE REFORMS NECESSARY FOR RAPPROCHEMENT WITH EU
14.07.2008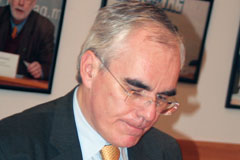 Chisinau. France is ready to support Moldova in its way to European integration, as it firmly believes in its European vocation and hopes that Chisinau will be able to successfully implement its internal reforms, which are necessary for the rapprochement with the European Union and for integration into this organization, French Ambassador to Moldova Pierre Andrieu made such statement in his interview for the Timpul newspaper.

He designated reforms in the field of human rights, combating corruption, freedom of the press and business environment as the priorities.

"Plus Transnistria, which is not a purely Moldovan problem and the keys to the settlement of this problem are far from Chisinau", the Ambassador remarked.

He gave a good mark to the Moldovan-French relations and underscored contacts on the level of Ministries and Parliaments in Chisinau and Paris.

"It is a pleasure for me to underscore the fact that France is one of the largest foreign investors in Moldova. Only a few weeks ago we set up a Club of the Moldovan-French Businesses. It must become an instrument, designed to direct potential French investors, representatives of French companies to the business environment of the Republic of Moldova and to promote economic and financial exchange between two countries", the diplomat said.

In his words, there is a number of French enterprises, which study seriously Moldova's business environment.

"But investing is a slow and long process. An investor is a careful person, particularly in respect of the ex-Soviet space, where the business climate is not always stable. He must observe, what is going on around for a longer time than in usual situations. However, we can surely say that they will make investments, attracted by the republic's favorable geographic location between the markets of the European Union and Eastern markets, as well as by local labor force. Many Moldovans are trained very well, they speak foreign languages, including French", Pierre Andrieu underlined.