LIBERAL PARTY LEADER SAYS HIS FORMATION SHOULD NOT ENTER ELECTORAL COALITIONS
18.07.2008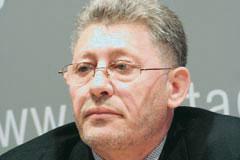 Chisinau. The leader of the Liberal Party (LP), Mihai Ghimpu, believes that his party should enter the race for the 2009 parliamentary election all alone.

Ghimpu told an interview with the website www.basarabenii.ro that the PL is "a party of decent, correct and respected people".

"I, the deputy leader, Anatol Salaru, and Corina Fusu started the fight back in 1987-88 and remained loyal to the national idea. Opinion polls speak for Dorin Chirtoaca. We are convinced that we will be able to get more mandates, if the party enters the election race by itself," Ghimpu said.

He voiced hope that "those who are 'the cogs' of the communist locomotive" will not make it to the future parliament.

"I also hope that the voters have realized what parties really want changes in Moldova. They are few, but the voters will gather around us and they will never regret that they gave power to the PL, just as they did during the local elections in Chisinau, when they elected Dorin Chirtoaca mayor and gave the most mandates after Communists to the Liberal Party," Ghimpu said.

Asked who he will cooperate with in the next parliament, Ghimpu said that "currently, good cooperation relations are established with the Our Moldova Alliance and the Liberal Democratic Party".