BASESCU BELIEVES MOLDOVA WILL NEVER FIND ITSELF IN GEORGIA'S SHOES
12.08.2008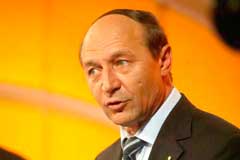 Chisinau. The Republic of Moldova is not facing a risk of falling into a situation analogous to that in Georgia, presumes Romanian President Traian Basescu.

Speaking at the opening of a summer school on Romanian communities and European identity, he stated that Romania unconditionally backs the territorial integrity of both Georgia and the Republic of Moldova, and that Bucharest would be acting in the context of NATO and EU decisions on Georgia, "and these structures completely support Georgia's territorial integrity".

Basescu stressed Romania would never come to wage a minorities policy that could bring harm to the integrity of this or that state.

"We all are witness to situation in Kosovo, where the state's territorial integrity was ruined for the sake of the so-called collective rights. Look what is happening in the south Caucasus region: there, a territorial integrity is also being violated for the sake of defending the rights of national minorities", Basescu said.