CHRISTIAN DEMOCRAT LEADER ASSUMES LIBERALS WILL GET MODEST RESULTS AT 2009 ELECTION
15.09.2008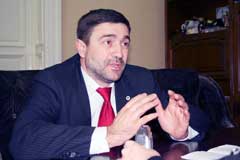 Chisinau. The leader of the Christian Democratic Popular Party (PPCD) and deputy speaker, Iurie Rosca, admits that his formation might divide the same write-wing voters with the Liberal Party (PL) at the forthcoming parliamentary election. Yet, he noted that the PPCD will make it to parliament while the PL will have modest results.

Rosca said during the programme VIP-magazine broadcast by the ProTV channel on Sunday that voters firmly made their choice only in such countries as the USA, while in Moldova, the fight for ballots is carried out on a rather big field.

Rosca assumes that Chisinau mayor and PL deputy leader Dorin Chirtoaca is "the engine" of the Liberal Party.

"At the 2007 election, Dorin Chirtoaca had an outstanding success. Our party backed him in the run-off too. But this success might let him down at the 2009 parliamentary election," Rosca said.

He believes that "two millstones are tied to Chirtoaca's feet: Mihai Ghimpu (PL leader) and Anatol Salaru (PL deputy leader), who will drive him to the bottom".

Rosca also said that Chirtoaca "has found himself in a trap after stating that he would not give up the post of mayor to become lawmaker".

"If he said that he would not leave the city hall what for does he need to run for the parliament? It means that he is fooling voters in order to pave the way to the parliament for people from his small party," Rosca said.

He accused the mayor of "arrogance and smugness", saying that this is the very reason why he dislikes him.