LUKOIL VICE-PRESIDENT NICOLAI CERNII DEVELOPS AGRARIAN BUSINESS IN MOLDOVA
30.09.2008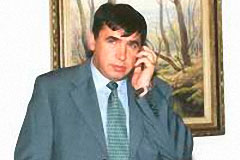 Chisinau. The Agro Management Grоup, belonging to Lukoil Vice-President Nicolai Cernii, bought about 10 thousand hectares of agricultural lands in Moldova in order to make agricultural business, the Kommersant Russian newspaper writes.

The newspaper says that beside the Chateau Vartely center near Orhei, the holding includes companies, which produce hybrid sunflower seeds, rape and sunflower oil and it constructs roads. It already invested 20-25 million euros in these projects.

In the near time walnut gardens will be planted on 3.5 thousand hectares of these lands and a factory for the processing of nut kernels will appear by the time of the harvest, that is to say, in five-six years - 5-6 million euros will be invested in its construction.

"The remaining lands will be used for wheat and barley, fruit trees and so on. In the future the AMG Holding is going to make investments in its fruit-vegetable business (the construction of a cannery in the south of Moldova, a packing house and a refrigerator in 11 km from Chisinau) and in the construction of commercial and housing immovable property: The company has already bought an unfinished office center, covering 9 thousand square meters in Chisinau and is going to complete the construction of another two centers, covering 12-13 thousand square meters", the newspaper writes.

According to its data, the sales of the holding's own products in 2007 constituted 7-8 million euros, its turnover with taking into consideration credit lines and its already made investments constituted 30 million euros.

Director of the Market Situation Institute Dmitry Rylko designated Moldova as an extremely attractive and promising country for the development of agricultural business. In his words, 10 thousand hectares of fertile black soils in Moldova correspond to 100 thousand hectares of such lands in Russia and it is very difficult now to find such free lands in Moldova: there remained almost no such unoccupied lands.

Nicolai Cernii was born in Ukraine, but he worked for a long time in Moldova. At first he acted in public catering. After his activities in 1986-1990 in the Tiumeni region in the MoldUrengoipromstroi he headed the fuel enterprise in the Republic of Moldova in 1991 (in 1995 this enterprise was transformed into the Tirex-Petrol company), and in 1999 in the Lukoil-Moldova.