…AND WILL REMAIN ACTIVE POLITICIAN AFTER PRESIDENTIAL RESIGNATION
02.10.2008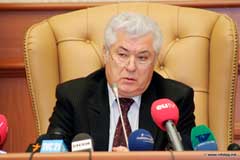 Chisinau. Voronin stated in the interview to the Echo of Moscow radio station that the term of his second presidential office is expiring in 2009, but he will remain "in active politics", and "I will leave [the post] very quietly".

He said that in 2001 [when his Communist Party won a parliamentary election and when the Communist-dominant parliament elected him President of Moldova] the word 'Communist' in the party's name used to scare many people both in Europe and in Moldova.

"Nobody, no liberals or anybody else, and not only in Moldova, is able to carry our such liberal reforms and such a reconstruction of all spheres of live as we [Communists] have implemented over these years. In Moldova, 'liberals' are nothing but a name: as all political party names had already been occupied by others, they decided to call themselves liberals", explained the Moldovan President.

He told the Russian audience that the Moldovan Communist Party held its ordinary congress last March, and the forum shaped the party's line for the approaching parliamentary election, "and elected me chairman of the party once again. Even if I had wanted very much to have a little rest, that would be impossible, unfortunately".

In his words, he will be "a part of the election campaign and of the country's political life… I cannot stay aside of the goals we have set to ourselves over these 8 years, and these goals and tasks have to be achieved. This is a matter of principle, a matter of my honour and conscience. I must do this job. Therefore, I shall not leave".