PRESIDENT VORONIN SAYS HE MUST PROCEED WITH TRANSNISTRIA SETTLEMENT EFFORTS…
02.10.2008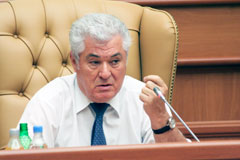 Chisinau. "As a head of state, I must go on further along the Transnistrian conflict settlement path", Moldovan President Vladimir Voronin stated in his interview with the Echo of Moscow radio station broadcast on Wednesday.

"Unification of the country is a priority task. I said during my trip to Bendery about three months ago (Voronin meant his meeting with Transnistrian leader Igor Smirnov held last April 11) that I am ready to sit at the negotiating table even with the devil, or with the dickens, meaning Smirnov, but I must proceed along the road of country reunification. I must go this path, no matter my likes or dislikes. This is just my duty", Vladimir Voronin said.

He reaffirmed that the criticism he voiced last week against Smirnov "was addressed personally to Smirnov. We are sick and tired of his constant gimmicks: now he wants to meet but then he does not, now he is free and now he is busy, now he is ready to go to Bendery, but then he does not wish to go to the western (Dniester) bank, and so forth. Such tricks have been in his arsenal for long 17 years. Believe me, now all this is becoming very serious. One cannot understand what Smirnov wants, if he wants anything at all. I understand he wants to preserve the regime he has built – the regime whose place is on the dumpsite of history. All this is clear, and only a physiologist can interpret this differently".

Voronin further held, "Smirnov, like all the rest separatist regimes that are still flaming on this planet, must be thrown out to this political dumpsite".

The President stressed that over the years, there were many proposals of how to settle the Transnistria conflict, but now there exists a document – the Law on the main provisions of a future special status for Transnistria, "which was voted for in July 2005 by the Moldovan Parliament – unanimously, for the first time ever. The Moldovan political class thus expressed its whole-hearted support for the draft of a legal status for Transnistria, which has never happened before".

Now, he said, on the basis of that law Moldova has prepared "the draft of a chief law – on the status of the Transnistrian autonomy, as well as a supplement to it – a plan of a phased solution of problems, or a 'road map' as Europeans call it, and a mechanism of guarantees. We are offering these three documents as a basis for launching a negotiation process in the format of 5+2. All the five main participants in the negotiation process have already received the drafts of these documents. And these have not been sent only to Transnistrians".

Voronin said Chisinau has already received responses "from all the said five parties, except from Russia" on the draft law on a status for Transnistria, "and the Moldovan side shall be insisting on considering only our status law as the main document".

He also said the situations in Kosovo or at the Caucasus cannot serve a precedent for Transnistria, "and Russia has withdrawn the question of recognition of Transnistria from the agenda… There is no similarity in the said conflicts. The Transnistria conflict is a totally different problem, not like in Abkhazia, or Nagorny Karabakh, or South Ossetia, or Kosovo".