MOLDOVA INCREASES WINE EXPORTS TO RUSSIA
07.10.2008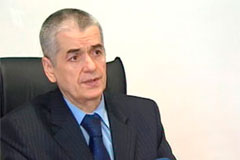 Chisinau. Moldovan wineries increase their wine exports to Russia after receiving beforehand permissions from the RosPoterebNadzor.

According to Russian mass media, Russia's Chief Sanitary Inspector, RosPoterebNadzor Head Gennady Onishenko stated this.

In his words, 29 Moldovan wineries supply wines and divins (high-quality brandies to the Russian market.

"As of October 6, 2.56 thousand wine consignments or 22.995 million liters, аs well as 273 consignments of divins or 2.604 million liters were allowed to be delivered to Russia", Gennady Onishenko said.

In March 2006 RosPoterebNadzor suspended the imports of Moldovan alcoholic beverages to Russia under the pretext of having revealed heavy metals and pesticides in Moldovan beverages. The Moldovan supplies were resumed in November 2007 after long negotiations.