FORMER DEFENSE MINISTER PLESCA RETURNING TO POLITICS
20.10.2008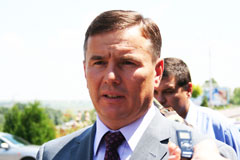 Chisinau. Moldova's ex-Minister of Defense Valeriu Plesca is going to come back to active politics in the nearest future.

Plesca told the ProTV-Chisinau channel last weekend that he may well decide to stand for parliament on the electoral ticket of a political party, for "it is fairly difficult to get rid of such a powerful virus as politics. I am waiting. This autumn abounds in various political projects".

The former defense minister said he had dedicated the past year to writing a doctoral dissertation on problems of military security, which he successfully defended several months ago.

"This was a tactical step, so to speak. I have recovered both morally and physically, and am in an excellent shape. I have traveled much. And now I am preparing: life is ahead", said the ex-minister.

Valeriu Plesca was elected to parliament in 1998 on the ticket of the voting bloc "For Democratic and Prosperous Moldova", and in 2001 – on the ticket of the Braghis Alliance bloc. Later, however, he quitted the Alliance and declared himself an independent parliamentarian. In 2004 he was appointed Minister of Defense, but was dismissed after an unhappy shooting exercise organized for journalists, when a local peasant was killed by a stray bullet.