TWO NATIVES OF MOLDOVA – AMONG ROMANIA'S RICHEST PEOPLE
22.10.2008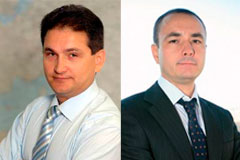 Chisinau. Two natives of Moldova are among 300 Romania's richest people. These data were published in the Capital Romanian newspaper. The matter is of the founder and the majority shareholder of the Moldavian Airlines, Carpatair and Air Service companies Nicolai Petrov and the founder of the Neogen company (the Internet services) Calin Fusu.

Nicolai Petrov, whose property is valued at 38-41 million euros, takes the 182nd place in the top list and Calin Fusu – 298th place (14 million euros).

The quoted source says that 42-year-old Nicolai Petrov came to the aviation business in the 1950s of the last century and his business became developing very successfully after 1999, when he set up two air companies in Romania. Swedish Billionaire Infvar Kamprad, who is the founder of the IKEA well-known network of shops, is also among the shareholders of the Carpatair.

In 2007 the Carpatair's turnover constituted 81.3 million euros and this year it can reach 100 million euros.

Calin Fusu entered the top list after he sold 28% of Neogen shares to two investment funds in the USA and the Netherlands and earned 6 million euros. He preserved only 41% of shares.

Gigi Becali (2.5 billion euros), Ion Tiriac (2.2-2.4 billion euros) and Dinu Patriciu ( 2-2.1 billion euros) are among Romania's richest people.