PRESIDENT VORONIN SAYS EUBAM HELPED PUT END TO ARMS EXPORTS FROM TRANSNISTRIA
23.10.2008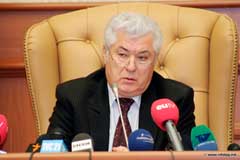 Chisinau. The European Union Border Assistance Mission to Moldova and Ukraine (EUBAM) has helped curb exports of weaponry from Transnistria, Moldovan President Vladimir Voronin stated over the NIT television channel of Moldova on Wednesday night.

This time, the monthly program called "Conversations with the President" was hosted not by local journalists as usual, but by Dmitry Solovyov, a prominent personality from the NTV television channel of Russia, to whom President Voronin stated that as many as 13 industrial enterprises in Transnistria used to make arms "in a non-stop regime".
"They even manufactured Grad [Hail] 46-barrel volley fire systems and Vasilek multi-launch rocket systems… and the annual turnover of the arms exports reached US$2 billion", said the Moldovan President. "However, with the European Union's help, we have deprived many people in Chisinau and other places of this interesting business".

The Moscow journalist wondered how strong the presidential security service should be if he dares ruin somebody's business worth two billion dollars a year. And Vladimir Voronin replied his personal security unit "is not at all numerous. I go to my work every morning on foot, for my home is near. I live in an apartment which I received [free of charge from the State] yet in 1989, when I was Minister of the Interior of the Moldovan Soviet republic, and its dwelling space is slightly over 100 square meters".

Vladimir Solovyov asked him about Moldova's choice between the European Union and Russia, where a relative stability is remaining against the background of the global financial crisis, and the President replied, "Nothing should divert the country from integration with the European Union – a goal supported by 80 percent Moldova populace".

In his words, Moldova has been given a chance to sign, in the first half of 2009, an Agreement on associated membership with the European Union, which he presumes may become an important step towards European integration.

Asked whether or not Moldova will need Russia then, Vladimir Voronin replied, "We will always need Russia. European integration is not in the least a counter-position to anybody. We have our interests in Russia, and must develop them by all means. Yet the European Union offers a broader gamma of interests to Moldova. The chief thing that links us with Russia is the Gasprom's gas pipe. But – we pay for the Russian gas a rate much higher than all other former Soviet Union republics, even the Baltic States".

Voronin put it totally clear that such a price is an aftermath of Moldova's refusal to sign the Kozak Memorandum [on Transnistrian conflict settlement] in November 2003.